We're sorry, this video is not available rnow. Please check back later.
In this episode of IntoWineTV, host Lisa Kolenda and wine experts Bartholomew Broadbent, Laely Heron, and Loren Sonkin convene at one of San Francisco's finest restaurants, Incanto, to taste and discuss Merlots that rock.
Theme: @#$% Sideways! Merlots that Rock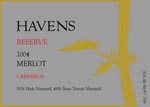 Wine: 2004 Havens Reserve Merlot ($40)
Region: Carneros, Napa Valley

Alcohol content: 14.5%
Varietals: 92% Merlot, 5% Cabernet Franc and 3% Cabernet Sauvignon
Producer Notes:
- Upcoming IntoWineTV Video Themes
- Wine producers and distributors: Find out how to get your wines included in our next session. More info...
Wine Notes (from HavensWine.com): Since 1985 we have produced Merlot from Carneros.  These wines have proven that, grown in the right place, California Merlot can age into something classically beautiful (like its Right Bank Bordeaux counterparts) with years in the bottle.  Our new offering continues that tradition at a high level.  The 2004 growing season continued a trend that ran from 2000 toward warmer temperatures, especially around harvest time. Cool weather and some isolated rains in May caused many vines to shatter at bloom, thinning the crop.  Warm, offshore conditions began to occur in late August 2004, and persisted into mid-September, raising sugars quickly.  Our response to this was not to panic, but to continue to look for the signs of phenolic ripeness, softening skins and brown, lignified seeds.  This required great patience and, ultimately, leaving substantial crop in the field at harvest. As a result the top wines show richness and forward fruit, but also with great structure and nuance. 
Our Reserve bottling of Merlot is distinguished from its Napa Valley brother in ways that may not be obvious from their designations.  Instead of simply saving the "biggest" wines for the Reserve, each bottling has its own virtues, with the wine's intended style in mind.  For our Napa Valley Merlot, we look for "fruit first," with the idea that we want this wine to offer delicious balance within a year of its bottling.  The Reserve is designed to emphasize the non-fruit complexity of the variety, a wine that also will develop gracefully with age.  So we tend to use vineyard lots with more total tannin, greater volume and texture of mouthfeel, as well as darker fruits, which age in the bottle to lovely forest and spice characters.  Texture and length are certainly hallmarks here, backed by dense fruit, but it is greater complexity and structure that define the Reserve.  With a full two years bottle aging before release, the 2004 Merlot Carneros has already developed into a distinctive wine: black fruits, hints of allspice, mace, and anise, and a broad-but-firm backbone.  This wine shows off 2004's best character, the rich texture of late-harvested Carneros fruit, and the complexity that comes from Merlot planted in a superior site.  It should age well for another five to eight years from release, not simply surviving, but developing more intricate texture and exotic aroma.
 
Experts:
Bartholomew Broadbent, CEO of Broadbent Selections. Bartholomew was named as one of the "fifty most influential people in the wine world" by Decanter Magazine. He is also widely considered to be one of the world's foremost authorities on Port and Madeira. Learn more about Bartholomew Broadbent.
Laely Heron, Owner and Winemaker at Heron Wines. Laely's unconventional upbringing in Africa, Asia Europe and the US may explain the wanderlust which has led her passion for international wine studies and winemaking.  She began at the Institute of Enology in Bordeaux, and worked in the US, Australia and Scandinavia before starting Heron Wine 13 years ago.  Today she makes wine in France, Spain and the US. Learn More about Laely Heron.
Loren Sonkin is an IntoWine.com Featured Contributor and the Founder/Winemaker at Sonkin Cellars.
Location: Incanto Italian Restaurant & Wine Bar, Situated in the heart of one of San Francisco's most charming residential neighborhoods, Incanto's rustic Italian setting, with its handcrafted stone, antique brick and woodwork, 16th century Latin parchments, and private dining room dedicated to poet Dante Alighieri, provides a uniquely warm and inviting dining environment.
Incanto's daily-changing menu honors old-world traditions including house-cured meats, unusual regional pastas, fresh local seafood and a commitment to sustainably grown and harvested produce. Incanto's award-winning wine program features one of the most diverse Italian wine lists in the United States and an ever-changing lineup of more than twenty wines by the glass, half-glass, half-liter, and flight.