Wine of The Week - Taylor Fladgate 325th Anniversary Reserve Tawny Port - 93 Points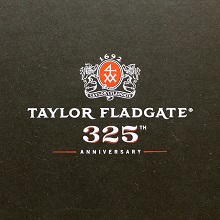 To celebrate their astonishing 325 years in the wine business, Taylor Fladgate has released a special Port in a unique bottle, reflecting their history and heritage. Made of traditional Portuguese varieties - Toiriga Nacional, Toiriga Francesa, Tinta Barroca, Tinta Roriz, Tinta Cão, and Tinta Amarela, various blends were pulled from their 10, 20, 30 and 40 year old Tawnies to create this celebratory anniversary blend. You'll find sweet plum, black cherry, fig, roasted nuts, notes of apricot, spicy hints of black pepper, and mocha. There are more subtle notes of licorice, nutmeg, prune and butterscotch. Dense and velvety on the palate, a solid acidity supports the viscosity, making this an ideal Port with food. The bottle itself, a squat bulbous dark glass bottle, is based on a design from 1692, and considered the first British shipment of Port to England in that particular bottle shape. Not only is this a superb Port but it offers superb and unique packaging.
Average Price: $37.99/ 750ML
Alcohol: 20%
Pair With: Miso glazed black cod with Wisconsin wild rice; Crème brulée, and candied walnuts atop aged Mimolette cheese. Flourless chocolate torte.
Availability: Limited, 1,200 Cases (U.S.)
Website: www.taylor.pt/
VINEBOX is a monthly wine-by-the-glass membership club. Members receive a curated box containing three glasses of wine from all around the world. Each shipment also contains tasting notes, pairing suggestions and some fun facts about where the wine came from. Explore new regions, learn about taste preferences, and get ready to find a few favorite wines with VINEBOX.