Wine To Go Buy This Week - Spottswoode Estate 2014 Sauvignon Blanc – 90 Points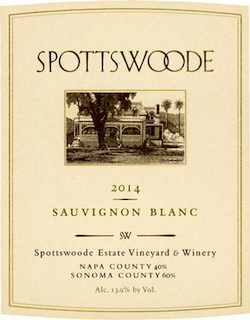 Spottswoode Estate has long been one of those wineries that receives high acclaim but less commensurate public attention. Winemaker Aron Weinkauf crafts beautiful expressions of Cabernet Sauvignon, but also an impressive Sauvignon Blanc. Comprised of 73% Sauvignon Blanc and 27% Sauvignon Musque from six different vineyard sites in Napa, Sonoma and Carneros, his creation is an inviting wine. Beginning with expressive notes of white peach, tangerine, honeysuckle, guava, lime zest, orange blossoms and a wisp of gardenia and menthol, its success lies in both floral and aromatic components that meld seamlessly. The bright acidity works its way through the entire palate, lingering on the finish. Using a combination of stainless steel barrels, French oak, and concrete egg, its unique expression it matched by its viscosity. It finds a stride between New World boldness and Old World intricacy, and is an excellent example of a clean, crisp, multi-faceted and aromatic Sauvignon Blanc from the Napa/Sonoma region.
Average Price: $38/ 750ML
Alcohol: 13.9%
Pair With: California Roll, tuna tartar, bruschetta with buffalo mozzarella, marinated grilled tofu.
Availability: Nationally
Website: www.Spottswoode.com
VINEBOX is a monthly wine-by-the-glass membership club. Members receive a curated box containing three glasses of wine from all around the world. Each shipment also contains tasting notes, pairing suggestions and some fun facts about where the wine came from. Explore new regions, learn about taste preferences, and get ready to find a few favorite wines with VINEBOX.