The IntoWine.com 2nd Annual "Top 100 Most Influential People in the U.S. Wine Industry" – 2013

60-Terry Theise: is a wine importer who started importing German wines to the U.S. in the 1980s making previously obscure grapes, such as Riesling, Gewuerztraminer, and Gruner Veltiner now trendy. He has received the wine industry's top prize, a James Beard Foundation medal for the nation's outstanding wine and spirits professional. The award hailed Theise for what his loyal followers have long appreciated: his role as champion of small producers, and his holistic approach to the joys of drinking wine. He is the author of "Reading Between the Wines."

59- Jon Rimmerman: is often credited with sparking the "email offer" revolution in fine wine sales. Rimmerman started Garagiste on a shoestring budget of just $500 with a simple concept: to bring the winemaker and consumer closer together by taking advantage of a then-new technology known as the email offer. Offering wines described in story form, Garagiste ranks in over $25 million in annual sales with over 100,000 subscribers

58- Kevin Zraly: teaches the Windows on the World Wine School, now in its 36th year which has graduated over 20,000 people. Zraly's book Windows on the World Complete Wine Course with its annual updates is among America's best-selling wine books selling over 3 million copies, and Zraly's American Wine Guide is the first book that deals comprehensively with all 50 states as modern wine-producing states. He's been awarded the prestigious James Beard Lifetime Achievement Award.

57- Richard Jennings: with over 30,000 tasting notes posted on Cellar Tracker, more than any other individual on the site, Jennings is a prolific, knowledgeable wine blogger and finalist for the 2011 Wine Blog Awards for best overall blog and writing. He writes for Snooth's Monthly Buyer's Guide, in addition to articles for the Huffington Post, proving that you can still keep your day job as you expand your knowledge and reach in the wine world.
VINEBOX is a monthly wine-by-the-glass membership club. Members receive a curated box containing three glasses of wine from all around the world. Each shipment also contains tasting notes, pairing suggestions and some fun facts about where the wine came from. Explore new regions, learn about taste preferences, and get ready to find a few favorite wines with VINEBOX.

56-Cameron Hughes: is a wine négociant. He does not own a vineyard or a winery but instead he outsources all the labor that goes into making a bottle of wine; growing the grapes, crushing and fermenting them. Working with wineries and vineyards in California, Oregon and Washington, as well as in Europe, he is on track to produce 300,000 cases of wine utilizing an effective business model under four different labels. His mid-priced wines routinely receive awards and accolades.

55- Fred Frank: manages Dr. Konstantin Frank in the Finger Lakes region in New York. As Konstantin's grandson, Fred Frank, has expanded the business tenfold and Dr. Frank wines are now distributed in 36 states and internationally. Earning 79 gold medals in 2012, their wines, specifically Riesling, have earned the reputation as world class. Wine Enthusiast nominated the winery American Winery of the Year, and the winery is one of the Finger Lakes' Most Award-Winning Wineries raising the bar for American Riesling.

54-Rajat Parr: as sommelier turned winemaker, Parr uses his high profile to educate the public at food and wine seminars worldwide. His Sandhi Wines based in Santa Barbara are receiving critical praise, just like his book, "Secrets of the Sommeliers." Parr continues as the wine director all of the Michael Mina restaurants throughout the United States.

53-Gordon Burns: established ETS Labs to provide technical and laboratory assistance to the burgeoning wine industry. ETS has continued to expand its technical expertise and new methodology in the analysis of wine in ways most people have no clue about. ETS was awarded ISO 17025 accreditation making it the first and only independent, domestic wine laboratory with this accreditation. Burns has been a member of the American Society for Enology & Viticulture, Association of Official Analytical Chemists, and many others.

52-Jon Fredrikson: of Gomberg, Fredrikson & Associates is the oldest professional consulting firm dealing exclusively in wine industry matters. The firm publishes management information, offering a broad range of wine property investment, industry research and consulting services and monitors monthly and annual comparative shipments of leading California wineries and wine imports by country. Their report also provides insightful commentary and analysis of current business conditions and trends shaping the market. Considered the bible of the wine industry, this behind-the-scenes firm has a great impact on the business side of wine.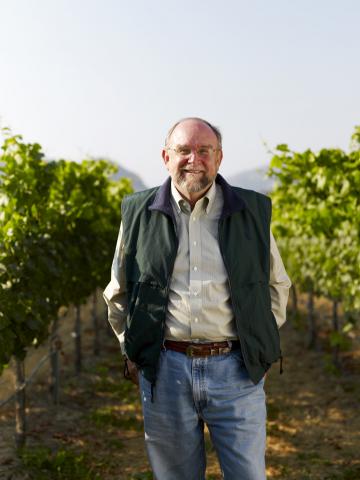 51-Steve Miller: and his two sons Nicholas and Marshall own and farm Bien Nacido Vineyards, the most well-known and respected vineyard on California's Central Coast. Bien Nacido also has the distinction of being one of the major viticultural nurseries in California for certified, varietal budwood. In addition to Bien Nacido, the Millers operate two other vineyard sites, French Camp, east of San Luis Obispo, and Solomon Hills in Santa Maria, with well over 2,500 combines acres, as well as two custom crush facilities in Santa Maria and Paso Robles where hundreds of winemakers got their start. Bien Nacido was called one of the top 25 vineyards in the world by Wine & Spirits Magazine, and Food & Wine Magazine called them one of the ten best vineyards.