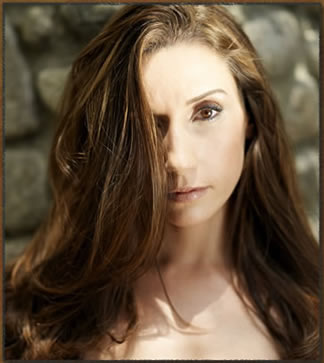 Rich. Bold. Nuanced. Delicate. Subtle. Words such as these are used constantly to describe the finer points of a great......... piece of music? Well of course they are. But they are also used just as commonly to describe a great wine. Given that wine and music can share so many of the same descriptive characteristics, it would seem logical that drinking a delicate and crisp Sauvignon Blanc while listening to a delicate and crisp piano sonata would enrich the experience of tasting the wine AND hearing the music. With this wine and music pairing theory in mind, Pop-Classical vocalist Valencia Vas has done something that is both innovative and yet obvious. She created an album of material and matched the characteristics of each song to a wine that shared those very same characteristics. I recently chatted with Valencia Vas about the project.
What inspired you to put together a specific wine pairing for your new album?
We were listening to an advance copy of my debut album, Reflections at a dinner party. A number of people remarked that the music was the perfect accompaniment to a nice glass of wine. Being a wine enthusiast, I thought it would be fun to expand on that observation.
For users who aren't familiar with your music, tell us about it.
I sing pop-classical music. I've been compared to Andrea Bocelli, Josh Groban and Sarah Brightman, but I tend to think of my music as an amalgam of classical and pop music with world and Americana influences. On my debut album, you'll hear everything from an American Lullaby to a Handel Aria to a Sultry tango. I am particularly drawn toward soothing melodies and cinematic orchestrations.
What is your background in wine?
As a music student, I worked in a number of restaurants – as a server and a bartender. I think that's where my fascination with wine and food began. I always enjoyed learning about the wine lists and how choosing the right glass of wine could really influence the culinary experience. I would go home and try out different bottles and play around with different flavor combinations. Needless to say, I've been a wine enthusiast ever since.
Give us an example of the thought process you went through in matching a wine to one of your songs:

Much like wine and food coupling, the concept behind wine song pairings is all about creating a listening experience that compliments your tasting experience - the goal being a multi-sensory event that heightens both the oral and the aural sensations.
Often times when speaking about music or wine the observer talks about the texture, the color, the depth, as well as the regional influences that enhance or define the object in consideration. Its interesting that one can often take direct phrases from a musical review and find the exact quote in a wine review…."rich, bold, nuanced, subtle…" We even go so far as to describe sound or taste in colors and shapes, adding an additional sensory experience – a gentle synesthesia. Studying these points of intersection we can easily match wines with a musical counterpart. This is the concept behind the Wine Song Pairing.
Remembrance (from my Album 'Reflections')
The song is a tribute to the events on September 11th. It's a dark song with rich vocals that explore the heights and depths of that tragic event. In this song, I explore the emotions of that very American through vocal texture and range. The ending however has a beautiful lingering quality that restates itself adding a new sweet dimension with each repetition.
This particular pairing had a number of intersection points to explore.
Region – an American experience requires a recognizable American wine
Vintage – for obvious reasons, we were looking for a 2001
Color – dark and rich - RED
Overlapping descriptions/adjectives – Sweet finish, earthy, dense
The match: Beringer 2001 Cabernet Sauvignon, Quarry Vineyard
What process did you go through to choose the wines on your list? That is, were they all personal favorites? Did you sample hundreds of wines? Did you consult with a wine expert?
I started off by creating a breakdown for each song (much like the one I did for Remembrance) then I would search countless wine reviews and narrowed it down to a few bottles. Then I consulted with Kyle Meyer (Wine Exchange wine buyer) and he made suggestions based on the lists and reviews and criteria I laid out. Then the fun part…trying them out.
As with food and wine pairing, you came up with specific wine and song pairing flights. Share with us what this means.
These flights are designed for small groups...with small servings that last only about five minutes (the length of a song). They are organized by musical themes and progress much in the way a meal/wine flight would progress. Offering "tastes" of the music and wine in an order that maximizes both the listening and tasting experiences.
What has been the public response to this rather compelling wine and song pairing idea?
We've gotten a lot of positive feedback. Many people comment on how interesting this concept is while at the same time it seems like such a natural idea.

Where can people find your music and where can they find information about the wine pairings?
For the pairings and information on my music you can check out my website, www.valenciavas.com. You can also find me on itunes, CDbaby, or at Borders Books and Music.

What are your plans for 2008?
In addition to music festivals and other venues, we're booking a number of wine festival performances and appearances. Also looking forward to getting back into the studio to work on some new music.