Top Ten California Syrahs - 2016
I tend to taste and drink a lot of wine over the course of a year. I am in a few tasting groups, sometimes the wines are consumed at various local wine store tastings and a number drunk with friends and family. Early on, it was evident that the best way to pay attention and also to remember what wines were consumed was to write a tasting note. Over the years, I have written well over 10,000 tasting notes probably representing 70% of the wines I have tasted. I make no pretense about the quality of the notes, but sip by sip and bottle by bottle, the notes have gotten a bit better. It always interesting at the end of the year to go back and review what wines were consumed and which ones I liked the best – overall and in categories. In 2016 I wrote 1,334 tasting notes. Thanks to computers, I can sort and select them down into various lists. I give you these to use as you wish – suggestions, comments, and reasons to laugh or disagree.
Caveat - I have for the most part not repeated wines that were tasted multiple times or the same wine from a different but close vintage in an effort to list more wines for those looking for suggestions. I drink, for the most part, what my wife and I like, so did I miss out on categories or specific wines? You bet. There is a lot of great wine out there and one can't drink it all. Part of the fun is seeing, over the years, how tastes change, finding new discoveries, following the development of vintages but most of all, just enjoying this special beverage. Cheers! - Loren Sonkin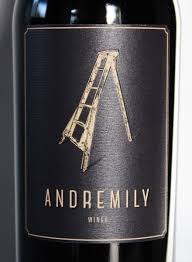 1. 2013 Andremily Syrah No. 2 - USA, California, Central Coast, Santa Barbara County
I knew I would be drinking this over two nights, so I opened one just to check it out. Wow. Purple in color. The nose is open and gorgeous. Black raspberries, grilled meats, roasted meats, white pepper and minerals. Lovely. On the palate, lush big texture. It also has the lightness of being Saxum wines sometimes have. Powerful yet deft. Black raspberries, grilled meats and peppery. Great balance. Long finish. I had to had the bottle from my wife so we could each have a glass on day 2. It actually had shut down just a bit. Some vigorous swirling revived it. So easy to drink. Just an amazing wine. My guess is in 5 years this scores 100 points from me. (99 pts.)
For more than 25 years, The California Wine Club founders Bruce and Pam Boring have explored all corners of California's wine country to find award-winning, handcrafted wine to share with the world. Each month, the club features a different small family winery and hand selects two of their best wines for members.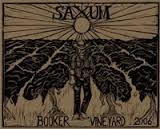 2. 2009 Saxum Syrah Booker Vineyard - USA, California, Central Coast, Paso Robles
Allowed to breathe for 24 hours prior to drinking which I believe it needed. Purple in color. The nose has black raspberries, black licorice, white pepper and spice. Maybe some dark cherries too. On the palate, this has a nice softness and complexity but still a while to go until peak. Lots of black raspberry fruit. Wonderful seamless texture. Black raspberries, slight earthiness, and spice on the palate. Nice but not strong acidity. Long finish. Worked great with grilled polenta. Needs time or air though. (97 pts.)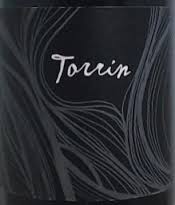 3. 2010 Torrin Akasha - USA, California, Central Coast, Paso Robles
Opened and this was a hot, oaked mess. Ok, that is a bit harsh, but I was not happy and after drinking a glass, the cork went back in. Opened again on the following night, gave it a half hour of air and boom! Great wine. Every sip made me say wow. Inky purple in color. The nose is deep with black raspberries, roasted meat, black pepper and a bit of wet leather. On the palate, there is a soft texture that is seamless. Layers of depth with fruit and a meaty quality. Nice acidity. Long finish. Delicious, complex and beguiling (on day 2). Glad we waited. (97 pts.)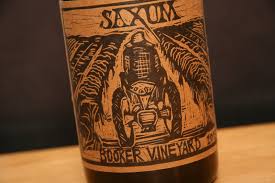 4. 2010 Saxum Syrah Booker Vineyard - USA, California, Central Coast, Paso Robles
While the 10 JBV was shut down, this was doing ok. PnP, I would still prefer to give it some air. Inky purple in color. The nose has black raspberries, white pepper, vanilla and smoked meats. Full bodied. On the palate this is very deep. It unwinds a bit in the glass but it seems like there is a lot more here to unwind. Great texture. Powerful yet ethereal. Lots of black raspberry fruit, gamy meats and licorice. Long finish. Worked great with food. (96 pts.)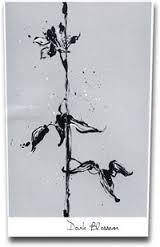 5. 2011 Sine Qua Non Syrah Dark Blossom - USA, California, Central Coast
This had been opened the day before but was tight. Tom and Kathy brought about half a bottle to dinner. It was really drinking well I thought. Purple in color, inky at the core. The nose has black raspberries, blueberries, black pepper, spice, tarragon and floral notes. Great texture. Very smooth and easy on the palate with lots of depth and tight layers. Obviously, this had a lot of air, but it did not hurt this in any way. Just delicious. It worked well food, not overpowering, but stimulating IMO. (96 pts.)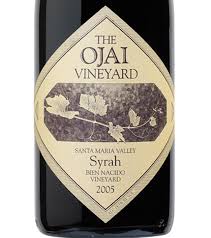 6. 2005 Ojai Syrah Special Bottling Bien Nacido Vineyard - USA, California, Central Coast, Santa Maria Valley
Purple in color. Gorgeous nose. This wine is still youthful. The nose has a bit of earthiness, black raspberries, plums, violets, sandalwood and a touch of bacon fat. On the palate, plenty of tannins left. A lot of fruit. Juicy, lush texture. Very deep. Vibrant fruit. Long finish. This still needs air or time, but it was delicious and just fantastic. Still, I think it has a bit more upside to it. A real treat. Thanks Jeff. (95 pts.)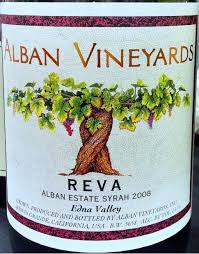 7. 1995 Alban Vineyards Syrah Reva Alban Estate Vineyard - USA, California, Central Coast, Edna Valley
Kudos to John for pulling this out at Hospice du Rhone to pour. This was in a great place. Black raspberries, some black pepper. Complex and layered. Just slight silky tannins. Still fresh fruit and some dried as well. A real treat. (95 pts.)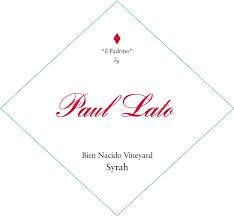 8. 2007 Paul Lato Syrah Il Padrino Bien Nacido Vineyard - USA, California, Central Coast, Santa Maria Valley
Paul stopped at our table with a bottle and generously shared pours with us. The nose is earthy with black raspberries and red cherries. Sweet fruit that unwinds into layers on the palate. Great balance. I think the bottle had been opened and poured for a while so it had a lot of air, but was showing very well. Very generous. (95 pts.)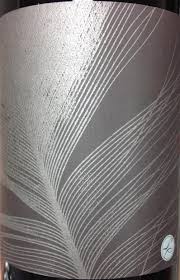 9. 2007 Lillian Winery Syrah - USA, California, Central Coast, Santa Barbara County
Wow. I was expecting a lot and this over delivered. Purple in color. The nose is great with black raspberries, tons of black olives, slight black pepper and slight plums. On the palate, even better. Great lush, yet soft texture. Complex and deep. Still on the youthful side but showing a great complexity. I don't know that this will get better. Certainly worth opening now. This bottle was pop and pour and drunk over a few hours. Just beautiful. (95 pts.)

10. 2006 Jaffurs Syrah Verna's - USA, California, Central Coast, Santa Barbara County
Just a great showing for this wine. Everyone remarked about it and then, the bottle was drained in 15 minutes. Should have brought two. Purple in color, it has lost a bit of the shimmering quality. The nose is gorgeous. Deep, black raspberries, leather, grilled meats, black pepper and decayed meat. On the palate, wonderfully supple texture. Juicy black raspberries. Great balance. Deep. Layers of complexity but fresh and young with no signs of being old or even at peak. Kept getting better in my glass (I only got one glass). Just a great wine. (95 pts.)