Top Ten California Pinot Noirs - 2016
I tend to taste and drink a lot of wine over the course of a year. I am in a few tasting groups, sometimes the wines are consumed at various local wine store tastings and a number drunk with friends and family. Early on, it was evident that the best way to pay attention and also to remember what wines were consumed was to write a tasting note. Over the years, I have written well over 10,000 tasting notes probably representing 70% of the wines I have tasted. I make no pretense about the quality of the notes, but sip by sip and bottle by bottle, the notes have gotten a bit better. It always interesting at the end of the year to go back and review what wines were consumed and which ones I liked the best – overall and in categories. In 2016 I wrote 1,334 tasting notes. Thanks to computers, I can sort and select them down into various lists. I give you these to use as you wish – suggestions, comments, and reasons to laugh or disagree.
Caveat - I have for the most part not repeated wines that were tasted multiple times or the same wine from a different but close vintage in an effort to list more wines for those looking for suggestions. I drink, for the most part, what my wife and I like, so did I miss out on categories or specific wines? You bet. There is a lot of great wine out there and one can't drink it all. Part of the fun is seeing, over the years, how tastes change, finding new discoveries, following the development of vintages but most of all, just enjoying this special beverage. Cheers! - Loren Sonkin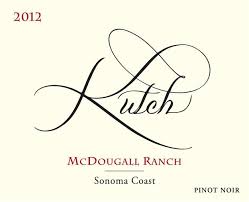 1. 2012 Kutch Pinot Noir McDougall Ranch - USA, California, Sonoma County, Sonoma Coast
This is ripe. For all the talk about how Jamie is making lower alcohol Pinot's, and that may be true, this has a lot of ripe fruit as well. Cherries, dark cherries, spice and roasted herbs on the nose. The palate has a great slick texture. Cherries and dark cherries with slight oak showing. Long finish. Easy and accessible yet a lot of depth and complexity. It may get better but it is great right now. (95 pts.)
For more than 25 years, The California Wine Club founders Bruce and Pam Boring have explored all corners of California's wine country to find award-winning, handcrafted wine to share with the world. Each month, the club features a different small family winery and hand selects two of their best wines for members.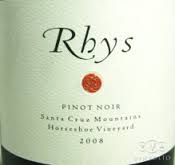 2. 2008 Rhys Pinot Noir Horseshoe Vineyard - USA, California, San Francisco Bay, Santa Cruz Mountains
I have long since drifted away from drinking much Pinot. Still young with some upside possible. Purple/ruby in color. The nose has dark cherries, some cranberries, some blueberries which is a fascinating mix. Some baking spices and some summer savory spice. On the palate, a seamless texture. Light tannins. Dark cherries and cherry fruit with slight moist tea/forest floor. Great acidity and balance. Long finish. And just delicious. As it sits in the glass it unwinds and shows some complexity. Saved a bit (it was hard) just to see where it is with some air on Day 2. Outstanding. (95 pts.)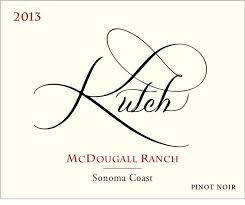 3. 2013 Kutch Pinot Noir McDougall Ranch - USA, California, Sonoma County, Sonoma Coast
I think eventually, this will beat out the 2012, but today it is more introverted and in need of time. Dark cherries and cranberries and cherries with some spice. On the palate, this is rich and ripe yet very tight. really energetic. Again, the alcohol may be lower (I did not check), but there is nothing under ripe and there is no shortage of fruit. Delicious. (94 pts.)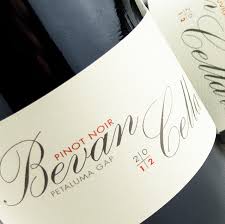 4. 2013 Bevan Cellars Pinot Noir Petaluma Gap - USA, California, Sonoma County, Sonoma Coast
This would not a Pinot for Burgundy lovers, that's for sure. The nose has black raspberries, black cherries and sandalwood. The flavors on the palate match. Some tannins. This is big and fruit filled and one of the more open and accessible 2013's I have had so far. Bevan's always seem to drink great early and this is true here as well. I liked it very much but it is a different take on Pinot, even for CA. (93 pts.)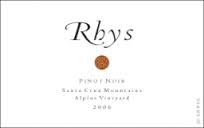 5. 2006 Rhys Pinot Noir Alpine Vineyard - USA, California, San Francisco Bay, Santa Cruz Mountains
This one is coming along just fine. If you are looking for a big Cali Pinot, probably too late on this. If you are looking for a bit or earthiness and some elegance with good fruit, you are a bit early. For now, it is drinking very well though. Nice nose, slight earthy funk, lots of cherries. Good texture, almost velvety but stops short. Lots of cherry fruit with plenty of depth on the palate. Tight layering. Nice finish. Glad to have one left. (92 pts.)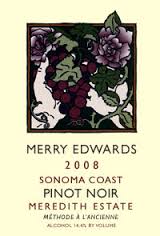 6. 2008 Merry Edwards Pinot Noir Meredith Estate - USA, California, Sonoma County, Russian River Valley
I really liked this but it does not drink like a traditional Pinot. Purple in color. The nose has black raspberries, dark cherries, some chocolate and slight meaty quality. Lush texture. delicious purple fruits on the palate. Some chocolate. It is ripe but has enough acidity to work with food. Didn't change much after popping the cork. Interesting wine. (92 pts.)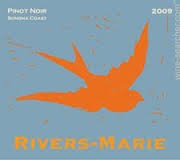 7. 2009 Rivers-Marie Pinot Noir Sonoma Coast - USA, California, Sonoma County, Sonoma Coast
Great showing. Basic bottling. Clearly from California. Just delicious without being syrah-like or overdone. Ruby/purple in color. The nose is great with cherries, dark cherries, a bit of candied qualities and slight earthiness. Great texture. On the palate, cherries, sweet sour cherry candy if that makes sense. Some earthy layers. I can see Burg snobs salivating at the thought of tearing a wine like this apart. Too bad for them. It is delicious. $25 - it is/was a smoking value. No hurry at this point, i am sure some evolution is still going on. Worked well with the food. (92 pts.)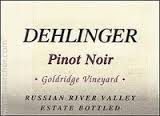 8. 2010 Dehlinger Pinot Noir Goldridge - USA, California, Sonoma County, Russian River Valley
Feminine. Pretty classic for Dehlinger. In a good spot though young now. Showing nice depth and complexity. (92 pts.)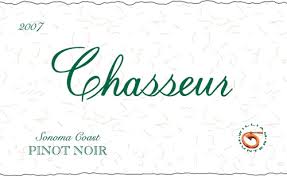 9. 2007 Chasseur Pinot Noir Sonoma Coast - USA, California, Sonoma County, Sonoma Coast
Jeff brought this by, it had been opened earlier in the evening. Earthy nose with nice cherries. Nice complexity. Good acidity. Seems like it is in a good place right now. (91 pts.)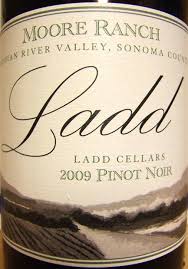 10. 2011 Ladd Cellars Pinot Noir Moore Ranch Vineyard Russian River Valley - USA, California, Sonoma County, Russian River Valley
Deep ruby in color. This is not a huge pinot but compared to the Longplay it explodes in the glass. The nose has cherries and a bit of cherry pie filling which is very nice. Nice more lush texture. Juicy acidity. Dark cherries with some slight cola notes on the palate. Also some cherry candy especially on the finish. Seemed to improve in the glass. (90 pts.)
Tags: