Sonoma Winemaker Merry Edwards: A Viticulture and Winemaking Pioneer
by Brad Prescott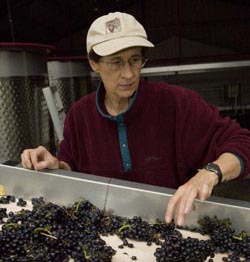 There is nothing I enjoy more in my role here at IntoWine than when I get to interview wine industry pros. "Peeking under the hood" and hearing what an accomplished winemaker has to say about their passion is simply fascinating. Recently I had the great fortune of chatting with Sonoma winemaker Merry Edwards about her career, her winemaking philosophy, and Merry Edwards Wines, her eponymous wine label and life-long dream. A pioneer for women in the winemaking industry, Merry Edwards is a renowned viticulturist and winemaker. Her work over the past 30 years has garnered her numerous awards and accolades including being named the "2004 Winemaker of the Year" by the San Francisco Chronicle.

30+ years of winemaking, what are you most proud of thus far?
I am proud that my wines continue to evolve and improve and that my growing commitment to estate farming is giving me better grapes to work with. Our recent completion of our new winery facility also opens a new chapter for improving our wines.

What inspired you to choose winemaking as a career path?
I started out as a home winemaker. I became fascinated with the fermentation process to begin with, extending my love of cooking to making fruit wines & beer. When I discovered The UC Davis program, I felt that the career of winemaking would give me lots of diversity and would fully utilize my education, love of the outdoors and fascination with the process. It turns out that the hole in my education was viticulture. I should have obtained a degree in that also; as it is, I have had to obtain my viticultural "degree" on the go.

You have been a leader and a standard bearer for gender equality in the winemaking profession. How far have we come since you started in the industry and how far do we still have to go?
Winemaking is not a woman friendly career in general. It's not wise to miss a vintage due to child bearing or child rearing responsibilities. Certain times of year require very extended hours including bottling season and harvest. A strong support network of family is needed to be successful on both fronts, and employers also have to be the right match. Women winemakers still constitute a minority although I am proud to say that I have nurtured many young winemakers or nascent winemakers and among this group are a healthy proportion of women.


For more than 25 years, The California Wine Club founders Bruce and Pam Boring have explored all corners of California's wine country to find award-winning, handcrafted wine to share with the world. Each month, the club features a different small family winery and hand selects two of their best wines for members.