It's not often you get to witness the beginnings of greatness. In the wine world, most consumers don't discover the best small production wines until they are either priced out of reach or available at the end of a very long waiting list. Wine lovers: here is your chance. Greg La Follette, one of California's (and perhaps the world's) finest makers of pinot noir and chardonnay has launched his own label, the eponymous La Follette Wines, and for perhaps the first time in his career is able to focus purely on making great wine for his own label, without distraction. Buy now or forever hold your peace. I recently caught up with Greg La Follette following a winemakers dinner in San Francisco where he was pouring his new vintage. Thanks to Greg for chatting with us!
What prompted the move from Tandem to La Follette?  
Pete Kight (proprietor of Wine Creek LLC with his wife Terri) and Nancy Bailey (General Manager of Wine Creek) had researched the move.  It turns out, my last name was more recognizable than Tandem due to all of the wines I had made for other wineries.  It was a good time to re-work how we did things, including making the line-up more understandable and the price-point more in-step with the economy.  Basically, the brand would not exist without some really savvy people knowing new market conditions AND understanding what I needed in order to make even better wines.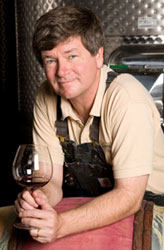 What changes for you with the transition from Tandem to La Follette?   
Here's the formula: Fewer cases of wine (by more than half), fewer vineyard designates (20 down to 5 vineyards to work with), retiring from consulting (especially international) = much greater focus and more time for each barrel and each vineyard.  Throw into the mix a real team to do the back-room part of the business such as sales, accounting, marketing, finance AND an assistant winemaker (never could afford one before!) and I am able to do what I love - make wine!  I'm not a business or finance person, never trained or studied the nuts and bolts of selling wine, and my own business Tandem suffered as a result.  Making my own wines was a weekend and evening job, while my day job was making wine for other people.  Now I have more time for my family, which is another big (and welcomed!) change.  The teamwork extends not only to my professional life, but now into my personal life. I can be a better spouse and parent, which has huge payback in the balance and harmony that my life can bring to our wines.  It's all connected!
Does Tandem still exist? Can those wines still be found?  
We rolled Tandem gracefully into the sunset - the plan was to transition into the new brand whilst supporting our partners, not let anyone down.  A few bottles can still be found at restaurants and bottle shops here and there, but they are getting harder to find all the time! 
What is your goal with La Follette Wines?   
To make wine that is authentic to each vineyard site and region and focus on Chardonnay and Pinot Noir (the most reflective and eloquent voice of the land, for any varietal I've ever met!)  I don't particularly want to make wines that run up the 100 point scoreboard, especially if the criteria for scoring well is a lot of oak and a lot of ripeness or some archetype version trying to reach "the perfect" wine.  I really want to partner with the voice of the land, which means telling a story, even if parts of the story are difficult to tell or may not fit into a prescribed mold.  This is the real challenge for winemakers today, because the Wine Press is so powerful and they have the ability to splash your wines across the public's radar screen.
Tell us about your wines:  
Following the thread above, all of my Pinots and all of my Chardonnays are very different from each other.  Each one needs to be a true expression, or I haven't done my job.  I have spent my career seeking out vineyards that have unique properties, and this uniqueness needs to be translated into our wines.  I'm relying heavily on the Wine Creek team to keep me focused on this translation, allowing me to bring to bear all of my training, experience and intuition into every bottle of La Follette wine.  This is the thread you will taste among the vineyards, which paradoxically allows for threads to be broken and each site, each wine to be itself.
You often speak of the "mouth feel" of a wine. First of all, what is "mouth feel"? What distinguishes a wine with good "mouth feel" from one with bad?  
Ah, here is a thread I like to follow for all of my wines, because all wines need to have balance and harmony to frame the unique characters of each wine.  Mouthfeel is indeed the level of balance and harmony, or how the various components of taste and physical sensation (including percieved viscosity or "weight") play on the mouth, and the impression that is left after the wine is consumed.  How much pleasure does a wine bring to your mouth?  Pinot noir is a great wine to think about how a wine can both love, even caress your tongue, having weight and texture while at the same time levitating, seeming to defy gravity.  A wine with great mouthfeel will absolutely love your mouth and please you long after the bottle is gone.  You might not remember the components or tactile descriptors, but you will remember the overall presence of the wine across your tastebuds.  Wines that don't quite reach this bliss aren't necessarily "bad" mouthfeel wines, they just don't have these particular aspects of harmony and balance.  You can still have great mouthfeel in young wines that are forceful and memorable, but it is each and every person's recollection of the pleasure of a wine in your mouth that creates your own definition of great mouthfeel.  There are more scientific definitions, of course, but I find these less useful to even the most oenoweenie wine nerds such as myself.  It's not intellectual - it is PLEASURE!
How has your philosophy or approach to winemaking changed through the years?  
When I was an angry young man, I made angry young Pinots.  I mean, the stuff I made at Hartford Court and Flowers were frequently really, really big, massive, almost tannic Pinots.  I remember a group of Burgundy winemakers, some of the best, coming to taste and tell me that my current Pinot in barrel needed only one eggwhite - an ostrich egg!  Back in those days we were teaching the dog to bark - we were showing that Pinot didn't have to be a light delicate (but not always pretty) little thing.  We were, as a group of winemakers, investigating new (and ancient Burgundian) techniques in both the vineyard and winery, procedures that could actually get extract and color into a wine by NOT treating it like a Cabernet, which is how Pinots were being made when I started in the biz.  We investigated cold soak, revisited wild fermentations, looked seriously at the role of oxygen in both Chardonnay and Pinot and, after a few years, we were making wine very, very differently than Cabernet indeed.  Spending time in Burgundy was a prerequisite to get a clue, because we as Californians didn't have the history or even the terroir models.  We had to reinvent everything.
Today we know the dog can bark.  Now we are looking for elocution.  I'm seeking more grace and elegance in my life, and in my Pinot Noirs.  My first degree was in plant biology, so I've always focused on the vineyards, but now, I believe that the best advancements in wine quality come from the intensity from the winegrowers in the vineyard. More and more, I'm tied to the notion that winemaking reflects who you are, who you aspire to be.  I want my business card to read "Greg La Follette - parent/spouse, winegrower" in that order.  I draw my best strengths in winegrowing from my wife and my kids, and their years of working with me.
How would you define terroir?  
I would not presume to be so bold, but if pressed, terroir is the land, the weather, the aspect (inclination) towards the sun and the plants themselves and their genetic material (both clone of varietal and rootstock as well as age). It is also the people who tend the vineyard with its subtle interactions and raise the wine.  People are a huge part of terrior, which is perhaps the biggest wild card.
The various points based ranking systems - Parker, Wine Spectator, etc - have a significant impact on wine sales and a huge influence on consumer perception of what makes a good wine. If you were king for a day, what would you change about the points systems?  
I'm not that clever and, as far as every mother's wish for her daughter or son to be president, I wouldn't wish that on my kids!  There are so many wines in this world that it is almost impossible for any consumer to follow the wine scene.  The points system does play an important role in helping the consumer understand wine or at least have a roadmap.  This is the upside, but the downside is that the 100-point scale doesn't have the bandwidth to really reflect the true stories of wine.  This is where the professional wine shop comes in, providing an invaluable service to consumers.  I would love for consumers to visit their favorite wine pro in their local dedicated wine store and query about the wines that the store owners and staff have tasted.  I'm a big fan of the local wine shop tasting their wines and then educating their clients.  I'm not much of an internet guy (heck, I can't even answer all of my own emails!) and I believe in people actually tasting, comparing and educating each other, but I understand that this is not always possible.  C' est la vin! 
Across the entire world of wine, what trends or changes are most encouraging to you?  
The move towards making wine in the vineyard, without a doubt. 
 Flip side, what is the most discouraging trend you see? 
Other than the inability of our politicos across the isle to work with each other?  All of the small wine businesses that are suffering terribly - grape growers, wineries, small wine shops and restaurants – the businesses that can't make ends meet right now.  I don't know that there is a solution other than a dramatic improvement in the economy.  I have many friends in the wine and greater beverage industry who are hurting and are even going bust, despite their intense, life-long passion and knowledge.  I'm one of the lucky ones who has a great team and the resolve to make world-class wines and for that I am very grateful, to Wine Creek, my consumers who have been with me for a long time, my growers (some of whom I have been making wine with for over 2 decades) and my wife and family, who have stuck with me and worked along side of me (the kids frequently didn't have a choice!) when times were the hardest for me.  I am a very lucky man, and I hope that the economics of the premium side of the wine biz improves for my friends and collegues.
Lastly, where can your wines be purchased?   
La Follette Wines can be purchased directly from our website www.lafollettewines.com