Wine Clubs are increasingly ubiquitous and wine enthusiasts have a plethora of choices when stocking their personal wine cellar. In the new book, , author Jim Arnold and Photographer Ingrid Larnis transform the broad spectrum of Sonoma County wine club offerings into a handy dandy guide that details each clubs benefits, costs, perks, and other pertinent information. IntoWine.com recently chatted with Jim Arnold about the book and the grand experience that came with researching it.
Why did you pick Sonoma versus Napa?

We live in Sonoma County, so it was most convenient. We're working on a book covering the Napa clubs now, along with a second edition of the Sonoma book. Plans for Mendocino/Lake County, then Central California.
Wine clubs are obviously a great way for wineries to generate repeat business. However, what are some wine club "benefits" consumers should be careful to avoid?
It used to be fairly common for wineries to dump the wines they couldn't sell into the club shipments, but that's become increasingly rare as competition for members has increased. Also, the developing culture of pride in winemaking, and the sophistication of the market, have made dumping unthinkable for all but the unthinking (and the shrinking).
One important issue you (any prospective member) will want to anticipate is how many bottles you'll want to receive from any one winery in a year, and how much you'll want to pay for it. Some clubs expect a relatively large commitment. And if you want to receive reds or whites exclusively, be sure a club gives you that option.

If you owned a winery and were starting a wine club tomorrow, how would you structure the ideal wine club?
Most wineries have already got that figured out from watching each other and copying success. Assuming there's enough production capacity to support a good club, I think providing a variety of shipping programs is important, with choices in the annual number of bottles and the types of wine. (That requires lots of staff time, of course.) Offering exclusive or first access to the best wines is an attractive benefit. A number of good, creative club events can be important to locals and frequent visitors. Providing easy access to the friendly winemaker is a special treat, as is an adequate and stable staff of people-persons who are not too overwhelmed to know the members' faces, if not their names.
What was your litmus test for including or excluding a given wine club?
We've included only the wineries with regular tasting room hours (at least one day a week), with at least one annual event for club members, and with an interest in expanding their membership. A few of the wineries with remote corporate offices, and remote club managers, were unforthcoming or too late for publication.

For people who live near Sonoma or travel there frequently, which wine clubs offer the best on-premise perks?
I've developed such a respect and fondness for so many of the people we've met I can't bear to single out just a few of the wineries for any but quantifiable reasons. Besides, there are unique characteristics of almost every winery with special appeal for different people. Some might look for every-day tasting room hours, a special tasting room or lounge for club members, exclusive tours, members-only tastings and wine and food pairings. Some might prefer a down-home atmosphere over VIP treatment.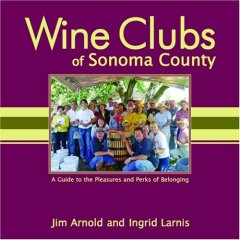 Which wine clubs do a great job of fostering a sense of community among its wine club members?

That's a tough question, not just because I hate to offer personal preferences – it's something almost all clubs strive for now. Some of the events offered might appeal to your own sense of community: chartered cruises with the owners to far-away places, adventurous off-site events, large or small winemaker dinners, art shows, raucous parties, or sophisticated affairs.
Which clubs would you describe as "must check out" for wine enthusiasts who live far away and only want high quality, unique wines shipped to them, regardless of price?
There are clubs that attract a higher-end clientele, whether by their limited production or the relatively higher prices of their wines, shipping programs, and events - and by their distinctly sophisticated presentation. In some cases they are large operations producing well-known inexpensive wines, but also making small batches of high-quality wines, in which case they privilege one tier in their clubs above their other more popular programs. Bartholomew Park, Chateau St. Jean, Ferrari-Carano, Kendall-Jackson, Ledson, Viansa, Williamson. People could argue with that list. I'm already dissatisfied with it.
Which wine clubs are appropriate for the cost conscious connoisseur?
Maybe this is a good opportunity to plug the book! We offer an easy comparison of the annual costs of shipments and numbers of bottles. But almost everyone offers a line of wines under $20 per bottle (with the member discount), with shipping programs starting between $100 and $200 per year. If you can afford $15 a month spread out over a year, the biggest variable in your choice is how much you like the wines and other features of a club.
Which wine clubs cater best to foodies?

A number of wineries have in-house chefs and frequent wine and food pairing events. Many of those who don't have a chef on staff will regularly employ the services of the excellent local catering industry. Almost all have a good appreciation for the marriage of wine and food. Wine Country has become Wine-and-Food Country. Winemaker dinners are everywhere. Club newsletters usually include recipes to go with the current wine shipment. But J Wine deserves special mention for their hourly pairing extravaganza. And Kendall-Jackson offers an elaborate pairing event almost every month.
Share with us the most unique events you found offered to club members:
Kunde has a great eco-hike into the backcountry of their estate, followed by refreshments. Schug offers an annual mushroom hunt, and other outdoor adventures, followed by refreshments. Roche used to offer wagon and horseback rides in the vineyards, but not, I think, since they changed hands – I think Rafael Hernandez has moved his horses, mules, and wagon to Larson's. Robert Young has some happy thematic dress-up parties. Kendall Jackson has regular wine education events. Roshambo's world-series rock-paper-scissors tournament and borderline-kinky parties are definitely unique. Gundlach Bundschu does Shakespeare and a film festival. Rodney Strong hosts a summer music festival. Lots of wineries feature blues or jazz festivals and series.
If you had to pick two wine clubs -one with on-premise perks in mind and the other for someone who will never set foot in the winery- to recommend to someone who has never joined a club before, which would they be?
I can't. I just can't. Maybe person-to-person, with a sense of someone's unique taste and personality, I could make a few suggestions, but I've got too much feeling for the people we've met – their dedication, their art, their warmth. I'd rather mention none than leave one out.
As one-time tourist destinations I guess I could list Korbel, Viansa, Ferrari-Carano, Sebastiani, Ledson, Beringer. But not necessarily because of their clubs.
Thanks to our work on the book we've enjoyed member-like treatment at a lot of wineries. If we had to choose just a few clubs to belong to I don't know how we could narrow the list to a reasonable number. Maybe with darts.
Researching this book must have been a joy as you traveled around Sonoma surveying each club. What were some of the high points?
Ah, the generosity of owners, winemakers, and staff! So many picnics, midday, between research appointments with the club managers - a choice bottle of wine gifted at our most recent interview, with our own provision of bread, cheese, and onion. A secluded spot in the trees alongside Dry Creek - rockling, rowling, swift and high, even in July. A hillside overlooking miles of green vineyards in high summer; a hillside overlooking Alexander Valley in fall, with miles of red and yellow vineyards to behold; a hillside overlooking Sonoma Valley, with endless budding vines in early spring; a windswept hilltop in Carneros, overlooking a vast plain of stoic vines in winter.… We had to postpone some of those afternoon appointments due to our lack of moderation, but each tomorrow was another day.
Then there were the events, parties, and dinners we had to cover for photos and background. Those tomorrows tended to start a bit late.
Wine clubs are increasingly popular. How do you see them changing and evolving in the future?
I expect there will be more emphasis on choice in the number and types of wines received. More exclusivity, the best wines being reserved for club members only. More events. More support by the wineries for the club management staff as the value of their efforts is better appreciated. More club members! More waiting lists for club membership.