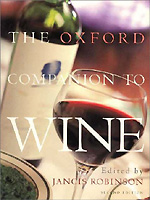 Jancis Robinson, A. Dinsmoor Webb, and Richard E. Smart - Editors
Description
From The Publisher:
Hailed by Frank J. Prial in The New York Times as "a required reference for anyone who is serious about wine," and by Anthony Dias Blue as "one of the definitive reference books on the subject," The Oxford Companion to Wine won every major wine book award, including the Julia Child and the James Beard awards. Now, Jancis Robinson has completely revised this masterpiece, adding over 500 new entries and thoroughly updating most of the rest.
Lavishly illustrated, with over 200 black and white pictures, 31 full color plates, and 31 maps of every wine region in the world, the Companion is the only wine volume to combine science, history, geography, wine varieties, social and cultural information, and much more. Ranging from Abruzzi and armagnac to Zimbabwe and Zinfandel, from Dionysian revels in ancient Greece to today's leading wine research centers, its 3,400 alphabetically arranged entries explore all aspects of wine, including the latest advances in viticulture and enology. There are in-depth discussions of the climates and grape varieties of great wine regions of the world, and numerous biographies ranging from Dom Perignon to Robert Parker. The book discusses vintner's terms, business and legal aspects, and related topics such as distilled and fortified wines. All technical terms are fully explained, and the hundreds of useful drawings and photographs illustrate key processes. New features include a complete guide to geographical names, a vintage chart, an overview of recent wine prices and investment, and a navigation chart to the Companion.
The ultimate reference on wine and wine-making, The Oxford Companion to Wine is the perfect volume to enhance a lifetime's enjoyment of this intoxicating topic.
About the Author
Jancis Robinson is one of the world's leading authorities on wine, voted the Wine Writer's Wine Writer by her peers and dubbed "the undisputed mistress of the kingdom of wines" by Frances Madame Figaro. In 1995, she won the Wine Literary Award of the Wine Appreciation Guild, in part for her work on The Oxford Companion to Wine. She lives in the United Kingdom.