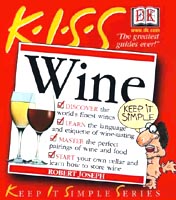 Robert Joseph and Margaret Rand, Foreword by Robert Mondavi
Description
From The Publisher:
The Keep It Simple Series, the greatest guides ever! Drink to your health and discover how wine can be good for you with DK's KISS Guide to Wine. You'll learn the basics from what wine to buy, where to buy it, and how to store it, to finding out which glasses, corkscrews, and other wine gadgets are the best to use. Savor and appreciate the basic styles of wine, from soft and fruity to heavy and rich. Enter the new world of high-tech wine production and compare it with the ancient methods. Master the art of tasting wine and discover the best food and wine combinations.
The Keep It Simple Series is the new standard in how-to books! Written by leading experts, each book includes full-color photographs and illustrations throughout, making these the first and only truly accessible guides for beginners. The KISS format is designed to help readers build confidence from the start, and learn gradually and thoroughly to the very last page. Much more than introductions to various subjects, these inspiring and innovative books are the ones that readers can trust!

About the Authors
Robert Joseph is the wine correspondent for The Sunday Telegraph in London and founding editor of WINE Magazine. Among his many achievements, he has won writing awards from the Marques de Caceres, Glenfiddich, and the Wine Guild of the UK. Robert Joseph is the author of several books, including French Wines, also published by Dorling Kindersley.
Margaret Rand is an award-winning wine writer and former editor of WINE Magazine, Wine and Spirit International and Whisky Magazine. She contributes to a wide range of publications, including The Sunday Times, The Daily Telegraph, WINE Magazine and the web site winetoday.com. She also wrote the audio guide for Vinopolis, London's major wine exhibit.
Robert Mondavi, now in this mid-80's, is American's foremost ambassador of wine. In 1966, he set up the now celebrated Robert Mondavi Winery in California, and single-handedly has popularized new styles of wine, such as Chenin Blanc. With Julia Child, Robert is currently Co-chairman of the American Institute of Wine and Food, which is devoted to celebrating food, wine, and the arts in American culture. He is also the recipient of many prestigious awards, including the American Wine Society's "1982 Winemaker of the Year Award" and Harvard Business Association's "Business Leader of the Year Award" in 1997.