This luxury box-set includes two of the world's most successful and bestselling wine books by the two foremost wine writers on the subject. A truly incomparable set of books, and a unique and essential addition to every wine-lover's, historians or literary followers library.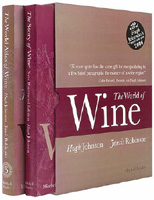 The World Atlas of Wine commands the position as the indispensable wine book for novice and expert alike thanks to its exceptional maps, the quality of its prose, and its well-timed revisions. Hugh Johnson and Jancis Robinson have teamed up to combine their unrivalled talents to produce this fifth edition, with an impressive collection of 178 new and fully updated detailed maps.
Fifteen years ago Hugh Johnson wrote what is critically considered to be his "masterpiece" and a timeless classic of wine literature. The Story of Wine has been heralded as one of the most comprehensive and certainly one of the most enjoyable books on wine in any language. This second edition has been condensed, updated, and re-illustrated with a selection of new evocative photographs to bring the book up-to-date with the latest developments in the world of wine.
About the Authors
Hugh Johnson is widely regarded as the world's foremost wine writer and one of the greatest authorities in his field. His approach to wine has earned him the admiration of wine-lovers all over the world. Hugh's remarkable series of wine books began in 1966 with the best-selling Wine. His subsequent award-winning titles include Story of Wine and Wine Companion (now in its fifth edition). The first edition of The World Atlas of Wine was published in 1971. Sales of Hugh's books, including the annual Pocket Wine Book and his gardening titles, The Principles of Gardening and The International Book of Trees, now exceed fourteen million copies.
Jancis Robinson is internationally renowned for her witty, authoritative wine writing. Her award-winning books include Vines, Grapes and Wines and the Oxford Companion to Wine. Critically acclaimed as "our cleverest, most thoughtful wine writer" (The Observer) and a "writer of breathtaking clarity" (Wine Spectator), Jancis now lectures, writes, and appears regularly on television. She is wine correspondent for the Financial Times and writes an international column. Millions know her as a television presenter of the award-winning series Jancis Robinson's Wine Course and Vintner's Tales.