Einstein's cook was lucky. But you, too, can have a scientist in your kitchen: Robert L. Wolke. Does the alcohol really boil off when we cook with wine? Are smoked foods raw or cooked? Are green potatoes poisonous? With the reliability that only a scientist can provide,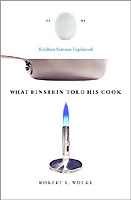 Robert L. Wolke provides plain-talk explanations of kitchen mysteries with a liberal seasoning of wit. A professor of chemistry and a lifelong gastronome, he has answered hundreds of questions about food and cooking in his syndicated Washington Post column, "Food 101." Organized into basic categories for easy reference, What Einstein Told His Cook contains more than 130 lucid explanations of kitchen phenomena involving starches and sugars, salts, fats, meats and fish, heat and cold, cooking equipment, and more. Along the way, Wolke debunks some widely held myths about foods and cooking. Whether kept in the kitchen or on the reference shelf, What Einstein Told His Cook will be a friendly scientist at your elbow. 20 illustrations.
About the Author
Robert L. Wolke is professor emeritus of chemistry at the University of Pittsburgh and winner of the James Beard Foundation and Bert Greene awards for food journalism.