If you love wine, chances are pretty good that you have a thing for food as well.  Be it French cuisine, Italian cuisine, fine cheeses, savory appetizers, or rich desserts, there is a gourmet in the heart of every wine enthusiast.  While there are literally thousands of cookbooks collecting dust on book shelves the world over, the books noted below are gourmet food books with a twist. Each perhaps unique enough in style to merit a place on the bookshelf in the study rather than the drawer underneath the microwave.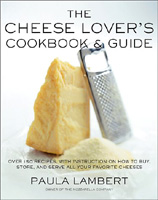 Paula Lambert, author of The Cheese Lover's Cookbook and Guide, is sort of the Robert Parker of cheese.  Her book is a must have for cheese lovers. It contains descriptions of a hundred cheeses organized by taste, texture, country of origin, and type of milk used to make them.  The book is an indispensable resource on buying, storing, cooking, and serving cheese.
The Ultimate Ice Cream Book, by Bruce Weinstein, puts Ben & Jerry's to shame in terms of unique concoctions.  Over 500 recipes and all about ice cream of all kinds and variations. 
What Einstein Told His Cook: Kitchen Science Explained, by Robert Wolke, takes a chemists approach to explain what really happens in the kitchen. Wolke debunks age old myths and provides enough interesting commentary to spark an entire evenings worth of light conversation.