Wine Report 2005 by Tom Stevenson
by Brad Prescott
Written by one of the world's top wine authorities along with a team of experts reporting from every wine region, Wine Report 2005 is the essential insider's guide to the world of wine. The book provides readers with the latest wine information, including hot tips on recent vintages and the best bargains. Rounded out with helpful Top 10 lists, local prices, and good wine investments, the Wine Report 2005 is a must for every wine enthusiast who wants to keep up with the constantly-changing (and sometimes daunting) world of wine.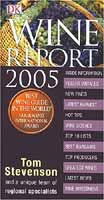 About the Author
Tom Stevenson has been writing about wine for nearly thirty years and is the author of more than 20 books. He's been nominated on three occasions as Wine Writer of the Year and received the coveted Wine Literary Award, America's lifetime achievement award for wine writing.
For more than 25 years, The California Wine Club founders Bruce and Pam Boring have explored all corners of California's wine country to find award-winning, handcrafted wine to share with the world. Each month, the club features a different small family winery and hand selects two of their best wines for members.
Tags: