Paradise Ridge Winery is more than just another Sonoma County tasting room. The Santa Rosa winery is equal parts great wine, relaxing view, unique outdoor art garden, and family affair with a touch of local history for good measure. IntoWine.com recently caught up with Paradise's Rene Byck to chat about what makes the winery a worthy oenephile destination spot.
Let's start out with your wines. Paradise Ridge is particularly known for its Sauvignon Blanc and its Cabernet. Tell us a bit about your wines, your grapes, and your winemaking process.
Our first vineyards were planted in 1978 and that was the "Grandview Vineyard" Sauvignon Blanc (10 acres). We added about 8 more acres of vineyards that we called the "Nagasawa Vineyard" in 1985. In 1996 we started to purchase some fruit from Ladi Danelek and that was the start of our red wine program. Present day wines are made from Estate fruit here in the Russian River Valley and fruit from the exclusive Rockpile AVA. Our main varietals are Sauvignon Blanc, Pinot Noir, Zinfandel, and Cabernet Sauvignon.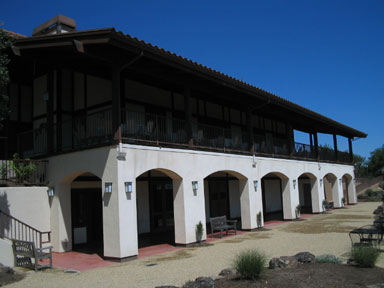 We do make small lots of Rose', Sparkling Wine, Merlot, Syrah, Petite Sirah, and even a little late harvest Sauvignon Blanc.
Our winemaking process consists of four unique things. We green harvest our grapes meaning that we pass through the vineyards and drop fruit before we harvest a minimum of four times a year. We also cold soak all of our fruit, do submerged cap fermentation on all the reds and we also do a long cold fermentation on all the rest of the wines.Paradise Ridge is a family affair as the Byck imprint is noticeable in everything - the wine, the land, the art, even the architecture. In which ways do you think the family's passions for wine, art, and living are best reflected at Paradise Ridge?
We like to think that we offer a complete wine country experience in where someone can enjoy art, nature, history, and family. My parents really felt like they found Paradise in the hills above Santa Rosa and in the spirit of my mother and family we wanted to share it with others. The sculpture exhibit in "Marijke's Grove" was something that my father was really the inspiration behind and the "Nagasawa Exhibit" in the Champagne cellar was something that my mother inspired. We are a business, but nothing makes us happier then people enjoying themselves with something that we created.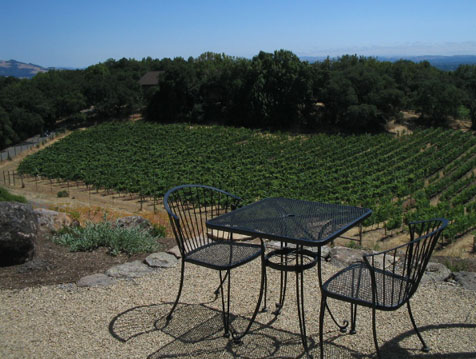 Both the land and winemaking have a rich history at Paradise Ridge. Share with us the historical ties Paradise Ridge shares with both Thomas Lake Harris and legendary Japanese winemaker Kanaye Nagasawa.
Unfortunately, the above statement is not entirely accurate. We want to bring back some of the vineyard history and winemaking tradition of this area, but we have not followed any of their techniques.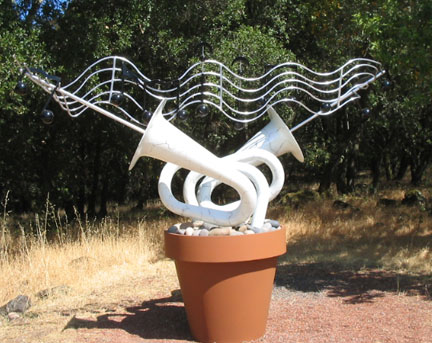 The winery itself sits on top of a hill with a spectacular panoramic view of the accompanying vineyards. As someone who is there every day, what suggestions do you have for those who want to come experience the wine and beauty of Paradise Ridge? In other words, when should the come, what should they bring, etc. in order to do it right?
People of course are welcome year round. Throughout the summer a good time to come up is on Wednesday nights when we celebrate our "Wines and Sunsets". People are encouraged to bring up there own picnic and sit out on our decks and manicured landscaping and enjoy the views of the Russian River Valley as well as the setting sun. Every day I come up to the winery someone is walking around the sculpture exhibit at Marijke's Grove enjoying the peace and serenity that the land emits. We were recently named in the SF Chronicle as one of the best places to Picnic in Sonoma County and they also said we had the best views in the County (we already knew this:). Finally, the more people who experience Paradise the better so bring friends, family, significant others and of course, your camera.
Your family is a big patron of the arts. The Paradise Ridge grounds are strewn with unique and intriguing art and sculpture. What is the idea behind your outdoor art gallery and sculpture exhibit?
The idea is to have natural gallery where sculptures can display their works. Each show is unique and we rotate it every year on our anniversary. Sculptures walk around the five acre grove and are inspired by certain areas where they either see an existing piece fit, or are inspired to make a sculpture for that specific spot.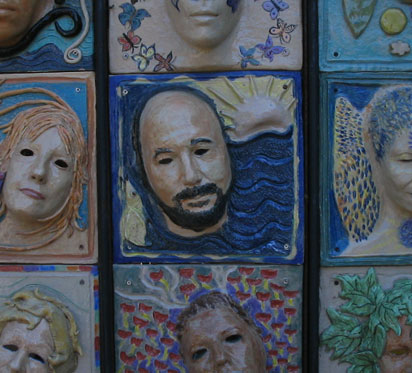 Paradise Ridge has become quite sought after for event hosting. Tell us a bit about your facility and what it has to offer those people looking to host an event.
We can hosts events for up to 250 people year round. We have just completed phase one of our new renovations and I must admit, it looks spectacular. We do a lot of weddings on the weekends in the summer and lots of business meetings and dinners year round. We have space to accommodate groups of any size as long as they don't exceed 250 people.
Fill in the blank: A first time visitor to Paradise Ridge should_________
......expect to have an unforgettable experience and also plan to stay a while and enjoy the beauty that we want to share with all who discover Paradise.