The Rhone Report: About Rhone and Rhone-Style Wines and Winemakers is part of an ongoing series.
We have just returned from the 2007 Rhone Rangers tasting at Fort Mason in San Francisco (March 18). This was the 10th annual public tasting organized by the Rhone Rangers (www.rhonerangers.org), an organization of nearly 200 American wineries dedicated to wines made from 22 grape varieties traditional to France's Rhone Valley. At the San Francisco tasting, about 134 American (mostly California) producers offered tastes of more than 500 wines made with Rhone grape varieties.
As lovers of Rhone wines and Rhone style wines grown elsewhere, we eagerly tasted as many wines as we could in the 4 hours the event was open. First we concentrated on whites and roses, so as to not fatigue our palates too soon on the reds. Then we devoted the remaining 2 ½ hours to the reds. Altogether we tasted (and spat out) about 90 wines, a mix of some we knew already and many we had not previously tasted.
We'll offer some comments and lessons from our tasting of the Rhone whites and roses this month. Next month we'll discuss lessons from our tasting of the Rhone reds.

Part I: Whites and Roses
Nearly 100 white wines were available for tasting. Of these, more than 50 were Viognier. Despite the popularity of Viognier, Rousanne was the white varietal that stood out to us, yet fewer than 20 were offered. The American Rhone Rangers should grow more Rousanne. We especially like the 2005 Tablas Creek Vineyard Rousanne ($27) and the 2004 Qupe Wine Cellars Rousanne Bien Nacido Hillside Estate ($40). Both wines are rich and aromatic, with long finishes. The Qupe version is slightly oakier and heavier, while the Tablas Creek rendition, grown on the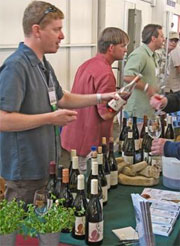 Tablas Creek estate west of Paso Robles, is slightly brighter and a better food wine. We also tasted some Rousanne that had been over-oaked, California Chardonnay style. That destroys the Rousanne's fruit and its affinity for fish, shellfish and Mediterranean foods.
An almost overlooked white varietal is Grenache Blanc. We have greatly enjoyed it while visiting the Vaucluse in the southern Rhone. At last, thanks to Tablas Creek and its relationship with Chateauneuf-du-Pape's Chateau Beaucastel, Grenache Blanc vines are now available in America. We especially like the 2005 Tablas Creek Vineyard Grenache Blanc ($27), also grown on the winery's own property near Paso Robles. It has citrus flavors with a rich mouth-feel, and is bright and crisp due to its high acidity.
About 20 blends of white Rhone varietals were available. The best were made in the style of the southern Rhone Valley blancs. An outstanding example is the 2005 Beckman Vineyards Le Bec Blanc ($20), a blend of Rousanne, Marsanne and Grenache Blanc from the Purisima Mountain Vineyard in the Santa Ynez Valley. With nuanced aromas and rich, complex fruit flavors, this wine is bright from its good acid level (no doubt thanks to the Grenache Blanc in the blend) and is an excellent food wine. Other admirable white blends include the 2005 Domaine de la Terre Rouge Enigma ($22), a blend of Marsanne, Viognier and Rousanne from the Sierra foothills; the 2005 Edmunds St. John Shell and Bone white ($20), a blend of Viognier and Rousanne from the Paso Robles area; and two wines from the Tablas Creek Vineyard grown on its property just west of Paso Robles. The first of these is the aromatic 2005 Cote de Tablas Blanc ($22), a Viognier-based blend with Rousanne, Marsanne and Grenache Blanc. The second is the richer 2005 Esprit de Beaucastel Blanc ($35), a Rousanne-based blend with Grenache Blanc and Picpoul Blanc. Both of the Tablas wines and the Beckman have good acidity, an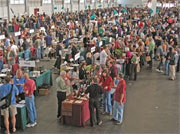 d it is no accident, for all of them include Grenache Blanc in the blend. These blends are models of delicious, food-friendly wines and should be emulated by many more American producers and consumed by many more American wine lovers.
Tasting these white blends reminded us of lessons we had previously learned in France and here at home: (1) white Rhone blends are delicious, food-friendly wines, (2) the components of the blends are important, and (3) Grenache Blanc not only makes a nice wine by itself, it improves blends with other white Rhone varietals by adding flavor and raising the acid level.
We can't think of happy days spent relaxing in the southern Rhone Valley without thinking about the refreshing dry, local roses (don't confuse these with insipid pink-colored "white" Zinfandels). About 25 of the American Rhone Rangers (way too few, in our view) offered roses, but with mixed success. In the southern Rhone and Provence, the best roses nearly always have a good portion of Mourvedre (especially in Bandol), with Grenache also comprising an important part of the blend (especially in Tavel, Lirac and the Vaucluse). Too many of the American versions include many grapes that don't produce the same flavors, such as Carignane and Cinsaut, or they include non-Rhone grapes such as Temperanillo and even Cabernet. But the biggest problem seems to be that too many of the American roses don't have any Mourvedre or enough Grenache. Our favorites at Rhone Rangers all had generous portions of both Mourvedre and Grenache. The 2006 Unti Vineyards Rose Dry Creek Valley Estate ($18) is made from the magic blend of Grenache and Mourvedre. It is aromatic and fruity with good acid, perfect for a picnic on a hot day or with a wide variety of spring and summer foods. Another Tablas Creek Vineyards entry was also outstanding: the 2006 Rose ($27), which is slightly deeper in color than the Unti and with a richer mouth-feel due to the dominance of Mourvedre in the blend, with Grenache and a little Counoise added. We also greatly enjoyed the 2005 Domaine de la Terre Rouge Rose Vin Gris d'Amador ($14), a blend of mostly Mourvedre with some Grenache and a little Syrah. We tasted some roses of mostly Grenache but no Mourvedre; the aromas and flavors are too simple and they don't have enough acid to be refreshing. A great Rhone or Provencal style rose needs a generous amount of Mourvedre. Too many of the American Rhone Rangers need to re-think their rose blends.
A pattern emerges after tasting the whites and roses: most of the best wines come from wineries that specialize in Rhone style wines. We didn't find many excellent whites or roses from wineries better known for their Cabernets or Chardonnays.

Part II: Reds