We're sorry, this video is not available rnow. Please check back later.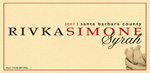 In this episode of IntoWineTV, host Lisa Kolenda and wine experts Bartholomew Broadbent and Loren Sonkin convene among the vines at Crushpad in Napa Valley to taste and discuss the cult wine brands of Crushpad.
Theme: Cult Wines of Crushpad
Wine: 2007 RivkaSimone Syrah ($29.95), Buy this wine 
Region: Santa Barbara County
Vineyard: Whitehawk Vineyard
Alcohol: 14.5%
Read the IntoWine interview with Bon Coeur Cellars Founder David Freeman.
Wine Notes: RivkaSimone Syrah, from White Hawk Vineyard in Santa Barbara County, has a strong core of acidity complemented by elements of meat and blackberries. The vineyard sits on the southern facing slope of Cat Canyon some 21 miles from the Pacific and 2 miles north of the tiny town of Los Alamos. The marine influence causes cool, early morning fogs to envelop the site before giving way to bright sun. It's planted at an elevation of 900 feet on pure sands that immediately drain off water and nutrients forcing the vines to work extra-hard to survive. The Syrah White Hawk is custom-farmed using sustainable and primarily organic viticulture methods. The yields here are miniscule and the berries intense. Only 300 bottles of this ultra-premium wine were produced; please contact us for wine club benefits.
Background: Founder Jon Staenberg: Rivka Simone is my new baby daughter and RivkaSimone Wines celebrates the first years of her life. To me, she's a rarity and we believe that you will find our wines to be just as exceptional. Each of our varietals are hand crafted by premium vintners and will be produced in limited runs of 300 bottles. The aim is to produce ultra-premium wines as rare to you as my first daughter is to me. Although points aren't everything, the vineyards we've partnered with provide grapes regularly rated 92-100 points by the Wine Advocate or Wine Spectator. My baby girl holds me spellbound and opens my heart. These wines, her wines, celebrate the smallest moments that mean the most. Like Rivka, it reminds us to savor every bit with patience and joy. Drink it in. You'll find yourself smiling and thinking, as we do, "wow, aren't we lucky?"
Experts:
Bartholomew Broadbent, CEO of Broadbent Selections. Bartholomew was named as one of the "fifty most influential people in the wine world" by Decanter Magazine. He is also widely considered to be one of the world's foremost authorities on Port and Madeira. Learn more about Bartholomew Broadbent.
Loren Sonkin is an IntoWine.com Featured Contributor and the Founder/Winemaker at Sonkin Cellars.
What is Crushpad? 
Crushpad is a facility that enables anyone with a serious interest in wine to participate in the magic of winemaking. With their team of wine industry veterans, modern winemaking technology, and access to some of the best grapes and vineyards around, Crushpad empowers their clients to make the type and style of wine they desire. Crushpad clients are as involved or uninvolved as they wish. Some take a "hands on" approach to every step of the process while others let the Crushpad professionals take care of the time consuming parts. In short, Crushpad is a pathway into the art, science, and business of winemaking for passionate wine lovers who don't own a vineyard or winery. Interested in learning more? Stop by the Crushpad tasting room in Napa Valley or visit Crushpad.com.