We're sorry, this video is not available rnow. Please check back later.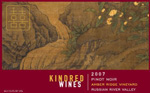 In this episode of IntoWineTV, host Lisa Kolenda and wine experts Bartholomew Broadbent and Loren Sonkin convene among the vines at Crushpad in Napa Valley to taste and discuss the cult wine brands of Crushpad.
Theme: Cult Wines of Crushpad
Wine: 2007 Kindred Wines Pinot Noir ($35), Buy this wine 
Region: Russian River Valley
Vineyard: Amber Ridge Vineyard
Alcohol: 13.7%
Read the IntoWine interview with Kindred Wines' Co-Founder Tim Halloran
Background: Kindred Wines was founded in 2005 by six close friends: Roberto Garces, Myung Kim, Kevin Carleton, Tim Halloran, Vince Wong, and Michelle Chen. The group has been connected to each other since high school. Conceived from the beginning as a serious wine venture and an equal and active partnership between the seven, Kindred benefits from the particular talents of each individual, some of whom have spent portions of their careers in the food and wine industry.
Most day-to-day winemaking decisions are guided by Garces, with the help of two key consultants: wine industry veteran Mike Zitzlaff (who spent over two decades making wine and managing wineries in Australia) and Kian Tavakoli (ex Opus One and Clos du Val winemaker). Halloran manages operations, and the others contribute expertise in marketing and sales, among other things.
Philosophy: Kindred Wines is a new kind of winery; one without walls, vineyards, or dogs to greet you. We strive to source the best possible grapes, combine down and dirty hard work with next generation technology, and share the results with passionate consumers.
Wine Availability:
www.kindredwines.com
www.localwino.com
http://www.sfwineassociation.com/
Napa Valley Wine & Cigar (Napa, CA)
The Wine Consultant (Citrus Heights, CA)
Browne Trading Co. (Portland, ME)
Wine Notes: Bright garnet, the 2007 Kindred Pinot Noir Amber Ridge is comprised of Dijon clones 777, 667 and 115. Aromas of wild berry cobbler and baking spice emerge from the glass. The wine possesses vibrant acidity with rich plum and cherry flavors that lead to a velvety finish.
This rolling hilltop vineyard sits in the heart of the famed "Middle Reach" of the Russian River Valley adjacent to the Gary Farrell's famed Starr Ridge vineyard. Lingering morning fog, warm afternoons and cool overnight temperatures allow the grapes to achieve perfect ripeness for wines that exhibit traditional Russian River characteristics.
Experts:
Bartholomew Broadbent, CEO of Broadbent Selections. Bartholomew was named as one of the "fifty most influential people in the wine world" by Decanter Magazine. He is also widely considered to be one of the world's foremost authorities on Port and Madeira. Learn more about Bartholomew Broadbent.
Loren Sonkin is an IntoWine.com Featured Contributor and the Founder/Winemaker at Sonkin Cellars.
What is Crushpad? 
Crushpad is a facility that enables anyone with a serious interest in wine to participate in the magic of winemaking. With their team of wine industry veterans, modern winemaking technology, and access to some of the best grapes and vineyards around, Crushpad empowers their clients to make the type and style of wine they desire. Crushpad clients are as involved or uninvolved as they wish. Some take a "hands on" approach to every step of the process while others let the Crushpad professionals take care of the time consuming parts. In short, Crushpad is a pathway into the art, science, and business of winemaking for passionate wine lovers who don't own a vineyard or winery. Interested in learning more? Stop by the Crushpad tasting room in Napa Valley or visit Crushpad.com.