We're sorry, this video is not available rnow. Please check back later.
In this episode of IntoWineTV, host Lisa Kolenda and wine experts Bartholomew Broadbent, Michael Broadbent, and Chris Tavelli convene at Yield Wine Bar, San Francisco's only "green" wine bar, to taste and discuss 24 different organic wines under $30 from across the globe.
Theme: Organic and "Green" Wines under $30
Wine: 2004 Lolonis Merlot ($16).
- Upcoming IntoWineTV Video Themes
- Wine producers and distributors: Find out how to get your wines included in our next session. More info...
Producer Notes - This Merlot has generous amounts of berry fruit, cherries, rose petals, and subtle notes of toasty oak, spice and caramel to round it out. A rather generously sized Merlot, it is still showing a little bit young and tight, but it opens quite nicely with a little decanting. Cellaring will improve its balance, with it showing at its best in 4-6 years. The family-owned vineyards are located in the heart of Redwood Valley, Mendocino and are certified organically grown (CCOF). In fact, Redwood Valley has the highest number per capita of organically farmed vineyards in the U.S.
Experts:
Bartholomew Broadbent, CEO of Broadbent Selections. Bartholomew was named as one of the "fifty most influential people in the wine world" by Decanter Magazine. He is also widely considered to be one of the world's foremost authorities on Port and Madeira. Learn more about Bartholomew Broadbent.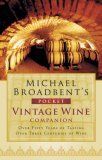 Michael Broadbent, Master of Wine, Author of numerous wine books including the recent release Michael Broadbent's Pocket Vintage Wine Companion. Michael is the founder and current Senior Consultant of the Wine Department at Christie's International Auction House. He is perhaps best known, internationally, as a wine auctioneer having pioneered wine auctions in Amsterdam, Geneva, Sydney, Hong Kong, Tokyo, and the United States.
Chris Tavelli, Owner and Wine Director at Yield, San Francisco's first and only "Green" Wine Bar. Chris is an organic and "green" wine expert.
Location:
Yield, San Francisco's first and only "Green" Wine Bar. Located in the heart of San Francisco's historic Dog Patch Neighborhood.
References:
Michael Broadbent's Pocket Vintage Wine Companion.