Bollinger — The Champagne Of James Bond In GoldenEye
James Bond, legendary hero of fiction and film, is devoted to the Crown and to his cup of Bollinger Champagne. Just as Bollinger has been awarded the Royal Warrant by seven British monarchs since 1884, so has Bond pledged his loyalty to Bollinger. For more than four decades - since Ian Fleming penned his first James Bond, Agent 007 thriller in 1953 - Bond has enjoyed his Bollinger Champagne.
Continuing the tradition, Bollinger Champagne is featured in the 1995 Bond saga,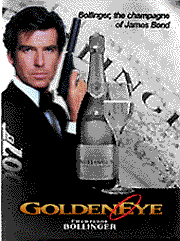 GoldenEye. This film is the 18th film to be based on Fleming's spy novels and the seventh in which Bollinger Champagne has been featured. Following a furious car chase about 30 minutes into the film, Bond, played by actor Pierce Brosnan, is asked what he does for relaxation by a woman psychiatrist sent by his boss to evaluate him. In response, Bond presses a
button on his Aston Martin's dashboard to reveal a secret refrigerated compartment cradling a frosty bottle of Bollinger Grande Annee 1988 and two glasses. Smiling impishly, he kisses her and pours her a class.
In discussing the film, Guy Bizot, export director of Bollinger Champagne and great-nephew of famed Champagne widow Lily Bollinger, said, "Great taste is always in great taste. Many people think of Bollinger as Champagne's most traditional house. While it's true we emulate the old-fashioned practices that enable us to create great hand-crafted wines, we are also very much in the 20th century. What could be more stylishly up-to-date than James Bond?"
Bollinger Champagne was thrilled that the Broccoli production team once again invited Bollinger to be James Bond's Champagne of preference. Speaking for the Broccoli team, producer Michael Wilson said, "Bollinger has become a reassuring institution. Its Champagnes represent an exacting but delicate blend of terroir, traditional values and talent. Enjoying a bottle of the inimitably styled Bollinger remains a unique pleasure".
Piper-Heidsieck is the Official Champagne of the Cannes Film Festival
Since its first appearance on the screen in 1934, Piper-Heidsieck Champagne has extended its cinematic role among journalists, actors, directors and producers. It is the official champagne of the festivals in Cannes and Deauville, as well as the Sundance Film Festival. Piper-Heidsieck is also the champagne of major film award ceremonies, including the Oscars in Hollywood and the Cesars in Paris.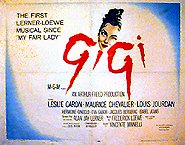 The Movie Gigi Celebrates The Night They Invented Champagne
In a movie as bubbly as champagne itself, the wine is celebrated in a memorable scene with the Lerner and Loewe song, The Night They Invented Champagne. The movie is set in turn-of-the-century Paris. Adapting Colett's novel Gigi, the cast includes Leslie Caron, Louis Jourdan, Hermione Gingold and the unforgetable Maurice Chevalier. Whether singing the praises of young love – Thank Heaven for Little Girls – or love long past – I Remember It Well – Chevalier is Gallic gallantry personified. Enjoy it again.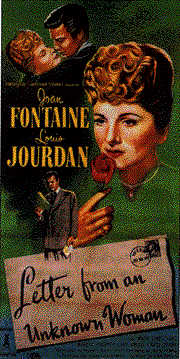 Letter from an Unknown Woman (1948)
Set in turn-of-the-century Vienna, Max Ophuls' classic romantic tale of doomed attraction stars Joan Fontaine as Lisa, whose life is consumed by her passion for Stefan (Louis Jourdan), a womanizing musician. Stefan seduces the vulnerable Lisa, leaving her to bear his illegitimate child and enter into a loveless marriage.
The film's literate screenplay was adapted from a 1922 short story by Stefan Zweig, by Academy Award winner Howard Koch (screenwriter for Casablanca - 1942). Although the film was not a commercial success upon its release and criticized as sentimental soap-opera, it has attained well-deserved status as one of the greatest films of its kind.
The delightfulness of champagne is made evident at one point in the film with the remark, "Champagne tastes much better after midnight, don't you agree?"