Wine Storage: Storing Wine & the Wine Cellar
by Brad Prescott
There are many reasons for starting a cellar. At the top of the list is convenience. With a well stocked cellar, you can be assured of having the right wine at the right time. It is also fun to analyze a wine as it matures, to make note of the subtle changes in its taste and structure. By having the wine in your cellar, you can drink it after it has been allowed to reach its maturity and gain the maximum benefit from it.
Generally, wines are cheaper when purchased by the case or in bulk. Fine wine is relatively inexpensive and more readily available when it is young. Once it has reached it maturity it is at premium if it is available at all. Some people buy a case of wine as an investment and once the wine reaches maturity, they sell off half of it and then drink the other half for free. Whatever your motivation, a wine cellar is worth the effort.

Basic Storage Conditions
For a wine lover, a cellar is a necessity. Fine wines are worth paying extra for only if you can store and eventually serve them in good condition. Rarely are wines cellars part of the standard blueprint. So finding the appropriate place to store wine is an issue for almost everyone. A little ingenuity may be required. The principles behind storing wine are not complex, difficult to understand or necessarily difficult to achieve. And if you can't achieve them all, some of them are better than none.

Let's begin with the ideal. From here, you can then try to approach the ideal as close as you are able. You're looking to achieve balance and consistency.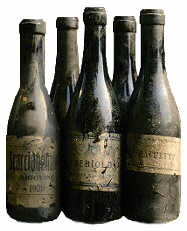 Wine is alive. As such it reacts either positively or negatively to its environment. How it is treated will determine how fast or slow it will age and how it will turn out in the end. Essentially, wine needs to be kept in a clean, dark, damp place with good ventilation, where it can be stored vibration free at a constant temperature.

TEMPERATURE - Temperature is the most important factor and the factor that should be sought after above all others. The optimum temperature is 50 to 55°F (10-12°C). However, any constant temperature within 40-65°F (5-18°C) will do. More important than the actual temperature you will be able to achieve, is the degree and rapidity of fluctuation the wine is subjected to. A slow change of temperature of ten or so degrees between winter and summer is not a big problem. But this kind of fluctuation on a daily or weekly basis will cause damage to your wines and age them prematurely. You will notice damage of this nature from the sticky deposit that often forms around the capsule. In time, as the wine expands and contracts, it will damage the integrity of the cork. When this happens minute quantities of wine may make its way alongside the cork possibly even allowing oxygen to seep back in.


Tags: