Wine Storage: Storing Wine & the Wine Cellar
by Brad Prescott
The Wine Cellar.....a place for wine to grow to maturity without distraction. Dusty bottles sleeping in orderly rows, breathing with imponderable slowness in a dark, moist, cool climate. Candle-lit treasures of ancient Bordeaux, golden brown Sauternes, mellowed California cabernet, and crusted Port await behind an iron gate. The wine cellar conjures up different images to different people. But whatever the image, it is simply a place to store wine. In this section we hope to give you practical advice on creating a cellar without taking away any of the romance.
Unlike most food and drink, wine can improve for years. This was not always so. Without the understanding that poor wine making, dirty storage containers, and exposure to air can cause a wine to quickly turn to vinegar, most of wine making history was operated on the assumption that the best wine was the newest wine. And so it was.
$1 Shipping Sale!
Check out
The California Wine Club
for hundreds of award-winning, limited production wines on sale now.
Save up to 70% off normal retail prices, plus every case ships for just $1.
Every wine is 100% guaranteed to be from a real-working winery, and a wine you will love – or your money back!
Visit
www.cawineclub.com
to learn more or call us at 1-800-777-4443 to take advantage of the $1 Shipping Sale going on this month only.

The Romans however, found that if a wine was placed in a tightly closed container it could improve with age without going bad. Some Roman wines were successfully kept as long as 100 years. Unfortunately, much of this insight disappeared along with the Empire.

From that time to this, wines have been aged with varying degrees of success. But it wasn't until the rediscovery of the cork – the Romans used it – and the improvement of the bottle, that aging wines went to a whole new level. Until the 1600's, bottles were fragile and quite expensive. The English were to change all this. By proclamation of King James I, all glass makers were to stop using wood to heat their furnaces so as to not deplete the forests. The glass makers turned to burning coal which allowed for a much hotter fire. Sir Kenelm Digby is credited as the inventor of the modern wine bottle.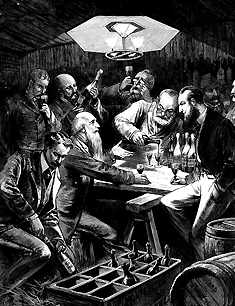 With the use of a blower to make the furnace even hotter, Digby was able to make bottles that were thicker and stronger and with the unknown benefit of being darker. They could also be produced much cheaper than the old method. Married to the cork, it was to become the perfect container for the maturing of wines. After a period of cautious integration, we finally see in the 1700's, wines made on a large scale deliberately for bottle ageing.

Of course, not all wines are meant to be aged. Most of the wines of the world are meant to be drunk young while they still possess their youth and freshness. Most of the wines that are destined to the cellar are red. Very few white wines need time to mature. For this reason, most white wines are purchased on an as needed basis. With that said, there's no doubt that all wine will benefit from even a few days rest after bringing it home.


Tags: