So how many bottles of wine do you have? A few bottles? A case or two? Several cases? Do you really know? The first time I took inventory, I was a bit shocked at how many bottles we had accumulated. (And that was before we joined any wine clubs or mailing lists!)
Have you ever opened a bottle that you'd been saving for years—only to wish you'd opened it sooner? Or opened a bottle from a recent vintage and wished you'd given it more time? Would you like to know how much your collection is worth—or do you need to for insurance purposes?
If you have more than a case tucked away or answered yes to any of the above,
you've probably already come to the realization that it would be a good idea to keep better track of what's in your wine collection. In fact, odds are good you have a file or spreadsheet somewhere where you started entering information about your wines. Odds are equally good that you found it tedious and time-consuming to keep the darn thing up to date and eventually gave up. Or maybe you turned to one of the cellar-management software packages that promised to make it easier to catalogue your wines by providing a proprietary database of wine data that included valuations and professional reviews. That was a step in the right direction—but you likely discovered that the database wasn't as complete as the marketing copy made it sound and you still had to do a lot of data-entry.
Fortunately, a fellow wine-geek has come up with a much better way to manage your cellar: CellarTracker.com. CellarTracker, created by Eric LeVine, lets you leverage the data that other wine-enthusiasts have already entered on over 347,000 different wines and provides access to over a quarter-million wine reviews and ratings. Better yet, you can access all of this information from any computer with access to the Internet. In fact, you can even browse it on your PDA or cell phone.
The CellarTracker interface might not look very exciting at first glance, but it provides a well-thought-out model for entering data and an incredibly comprehensive feature set. As fellow cellar-tracker Justin Hutchins wrote in a recent forum post:
"I love the focus on use over looks. It's not flashy, but it does so many things that 'corporate' trackers wouldn't. The ability to look at ratings and your cellar based on regions and varietals is great. I love the way you can play around with the functions to see why and what you are drinking, and what you think about it. It goes so far beyond just being a database. I use CellarTracker to help me understand my personal trends and interests in wine that wouldn't show up so clearly otherwise."
Whether your "cellar" consists of a couple cases stored under the stairs or a full-blown temperature and humidity controlled storage system, CellarTracker provides a handy way to take stock of what you've collected and puts a wealth of wine information at your fingertips.
Adding Wine to Your Cellar
Setting up your CellarTracker cellar and adding wines is a breeze—in most cases you can simply search and select each wine from existing entries (Click on image to below to enlarge). I've logged nearly 800 bottles of wine and have only had to enter totally new wines a few times. I rarely even need to add an entry for a new vintage of an existing wine—other cellar trackers usually beat me to it.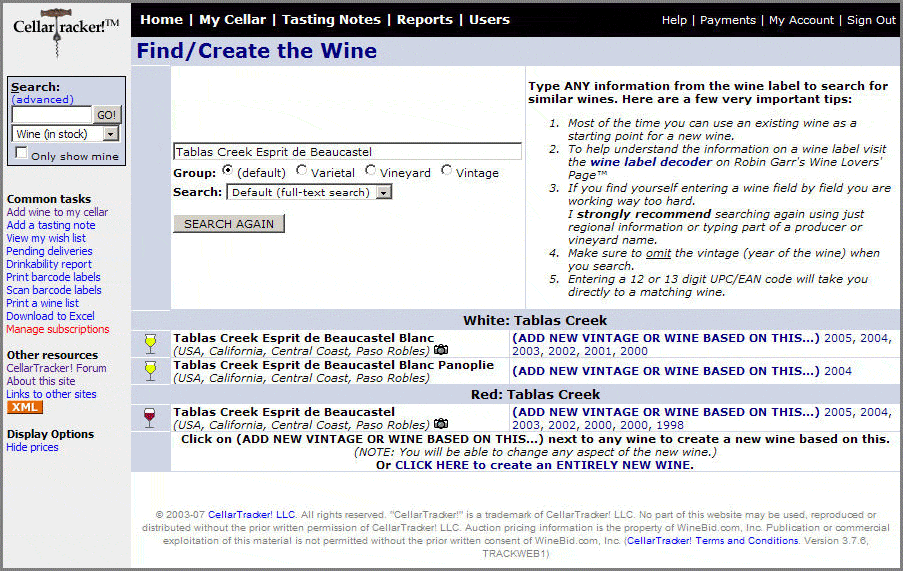 For those of you who have stuck with using a spreadsheet or other application to track your cellar, CellarTracker provides bulk-import tools to help you get your existing data into CellarTracker. (And, of course, tools for exporting all of your data from CellarTracker for offline access and archival. You can even generate printable wine-lists from your inventory.)
Keeping your Cellar Up to Date
One of the biggest challenges in keeping tabs on your wine collection is simply keeping the inventory up to date. It's not always possible or practical to immediately record every bottle you've purchased, consumed, or moved to a different storage location.
CellarTracker has a barcode label feature that helps alleviate this inventory-control problem. When you enter new wines, you can generate labels for each one that show the name of the wine, a unique barcode, and information such as its score, drinking window, and price.
Even if you don't use a barcode scanner, using the labels makes it much easier to keep track of which bottles you've removed from your cellar. I use removable labels so I can stick them in a notebook until I have time to record the bottles we've opened. I prefer the labels over hang-tags like Vinote tags because hang tags don't always stay on the bottles and don't work well with a lot of racking systems. The additional information on the labels also comes in handy when you're looking at the actual bottle of wine instead of your database.
If you do use a barcode scanner, you can scan a set of labels and make bulk updates to your cellar contents, rather than updating each bottle individually. You can use the bulk-update feature to record consumed bottles as well as update location and bin information as you shift bottles around. Needless to say, this can be a huge time-saver if you have a lot of bottles to update.

Sharing Cellar Information and Tasting Notes
Every time you mark a bottle as consumed, CellarTracker gives you the option of entering your own tasting notes and score. By adding tasting notes for your wines, you are contributing to the largest collection of free wine reviews in the world. These wine reviews are one of the most unique aspects of using CellarTracker. Whenever you view a wine, you get to see what other cellar trackers are saying about it. After a while, you'll get a feel for which users' tasting notes are most in line with your own palate, and whose collections are worth browsing for new wines to try.
While all of the information you enter into CellarTracker is available online, you can keep your cellar inventory private if you choose and post reviews and scores anonymously. If your inventory is private but you want to let your friends check out your collection, you can create a CellarTracker buddy list.
Visualizing your Cellar
This is where CellarTracker really shines. Want to know what is (or isn't) ready to drink? CellarTracker can tell you instantly, based on the information you and other cellar trackers have entered and information from professional wine reviews. Want to know how much you've invested in your collection and what it's currently worth? It's at your fingertips (if you really want to know!) You can just as easily check the contents of particular storage locations or see what regions, varietals, vintages, or producers are represented in your cellar. I like how cellar tracker Stealthwine summed it up:
"CellarTracker really makes your collection's style and lack of logic pop out in bright black laser-perfect print. It's showing me a whole giant world of wine I have yet to explore. In short, it's a lot of fun."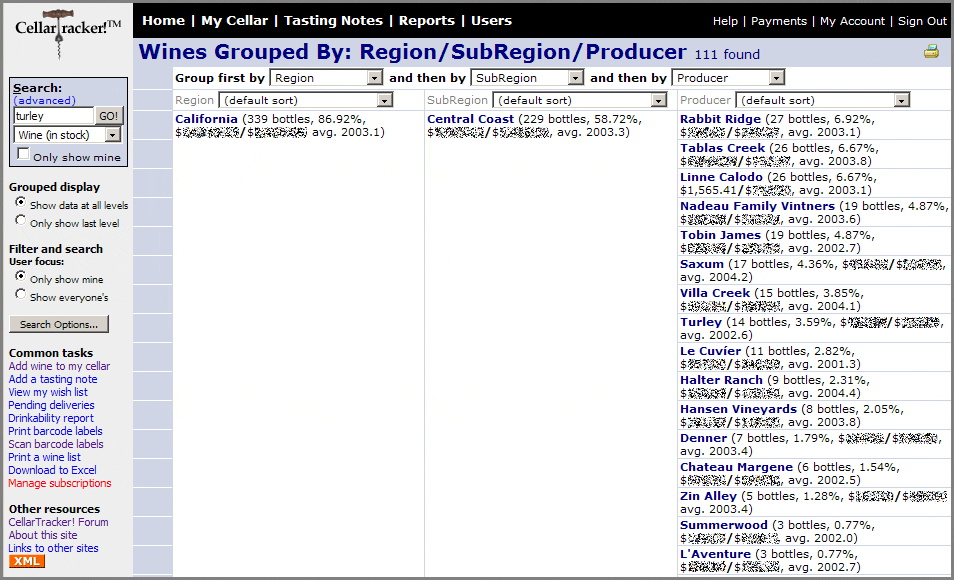 The extensive searching and reporting capabilities aren't limited to your cellar inventory—you can just as easily view reports that show your consumption history, tasting notes, and purchases. You also have access to all sorts of interesting community statistics, like the top 100 wines and most popular producers.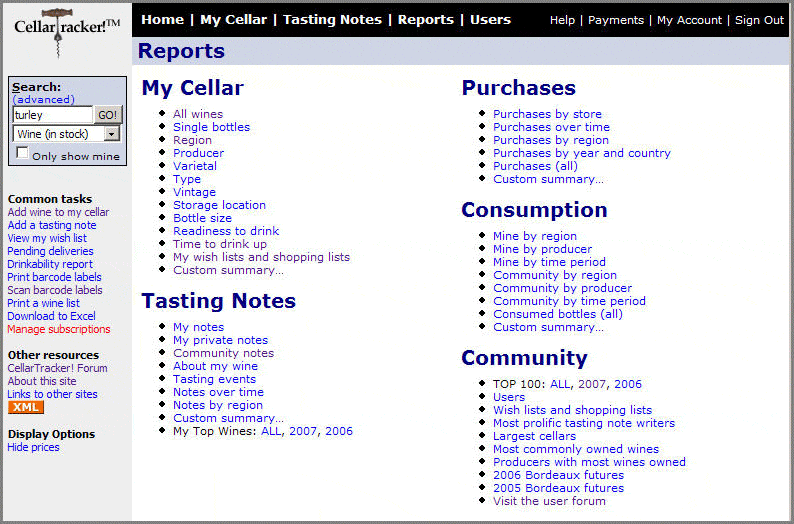 The Bottom Line
CellarTracker provides an extensive collection of cellar-management tools backed up by a vibrant community of fellow wine lovers. The cost? Visitors to the site can browse the entire CellarTracker wine database and tasting notes for free. What's more, there's no charge to register and begin cataloguing your wines—you don't even have to enter a credit card to get started. If you like the service, there's a suggested annual subscription fee that ranges from $30 to $100 based on the number of bottles you've recorded. Paying subscribers also have access to premium features and information such as valuation information from WineBid.com. So what are you waiting for?
Disclaimer: My only interest in CellarTracker is as a paying subscriber. I'm promoting CellarTracker simply because it's superior to any of the other cellar-management tools I've tried and I think it's really cool. The only benefits I receive from publicizing the site are purely selfish ones. The more people who add wines to the database, the easier it is for me to use CellarTracker to keep track of my own wines. The more tasting notes that are entered, the more information I have to guide my own wine explorations. Everyone who joins the CellarTracker community reaps these same benefits, which is what makes it such a unique and powerful tool.