Best Rhone Red Recommendation (For the Money)
IntoWine asked a panel of wine experts to recommend the best Rhone red wine (for the money):
With the price of Chateauneuf-du-Pape skyrocketing, now is a good time to explore some of the other Rhone Valley AOCs that offer good wines at better values. Just north east of Chateauneuf-du-Pape is the sun-drenched village of Vacqueyras. As if being overlooked by those on the prowl for Chateauneuf-du-Pape weren't enough, like a younger sibling lost in the shadow of its glamorous older sister, Vacqueyras often plays second fiddle to its northerly neighbor Gigondas. Well the vineyards of Vacqueyras may not be as picturesque as those of Gigondas, their wines may not be as long lived, and they may not have received AOC status until nearly 20 years after Gigondas, but wines from Vacqueyras offer a rustic simplicity that make one think of enjoying a hearty cassoulet in a tiny cobblestone French village. By law the wines must be at least 50% Grenache with Syrah and Mourvèdre making up at least 20% of the blend. A fine example of Vacqueyras is the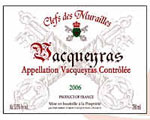 2006 Clef de Murailles. This wine is made out of grapes grown from a local grower's co-op and offers a classic expression of what the region produces at an affordable price. Deep and brooding, the wine is uninfluenced by oak so the spicy, mineral-laden terroir shines through. There is a touch of red fruit to this wine, but it's not for the faint of heart. If you're looking for a jammy fruit bomb, stick to California; this is not your wine. But if you're interested in taking a chance on an honest, traditional wine from a region that is generally ignore, pop open a bottle of Clef de Murailles. - Kareasa Wilkins, Wine Consultant for Weimax Wines & Spirits in Burlingame, CA and an IntoWine Featured Writer
-------------------------------------------------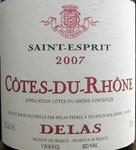 Ten dollars barely affords a meal these days. Luckily, the Delas Freres Côtes-du-Rhône 'St. Esprit' Rouge 2007 offers more meat and pepper for $10.99 than a ribeye from Sizzler. Even the most stubborn appetites soon salivate over this deep, opulent ruby colored gem of the southern Rhone Valley. The Delas Freres blends traditional Cotes-du-Rhone grapes of Syrah, Grenache, Mourvedre and Carignan from the granite hillside vineyards nestled above the Southern neck of the Rhone River. I often find when shopping for inexpenive reds whether Syrah based, like the Delas CDR, or Cabernet Sauvignon, an imbalance in texture. Either the wines appear too dry and alcoholic or they're so sweet you can only conclude some major residual sugar is present. The Delas falls gorgeously in the middle. The intense red berry aromas lead to smooth tannins, spice and black fruit while finishing with a youthful power one only finds in a Cotes-du-Rhone. A very affordable, accessible and exceptional wine. - Michael Whitehead, IntoWine Featured Writer
For more than 25 years, The California Wine Club founders Bruce and Pam Boring have explored all corners of California's wine country to find award-winning, handcrafted wine to share with the world. Each month, the club features a different small family winery and hand selects two of their best wines for members.
-------------------------------------------------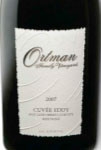 Chuck Ortman has been making wine for decades. And California's Central Coast is asserting itself as a prime Rhone region. Ortman's 2007 Cuvee Eddy ($24) utilizes syrah, grenache and mourvedre, but tosses in nine percent petite sirah, all grown in San Luis Obispo County. The resulting wine has the classic Rhone notes of cherry, pepper, even a bit of leather, but there's a deeper richness due to the inky and heavier petite. The Cuvee Eddy also balances out the right amount of acidity and tannins to make it comfortable to drink, not a high alcohol, fruit bomb that lacks grace. The finish on this wine is long and it's very round in the mouth. Spot on for Rhone, right here in California. - Michael Cervin, Wine Judge, Restaurant Critic, and IntoWine Featured Writer