IntoWine asked our experts to share their favorite German red wines.  Here are their recommendations:
Germany is the new rising star of Pinot Noir – called Spatburgunder in German. Known for its rich heritage of making some of the world's most memorable white wines, German winemakers are taking their understanding of cool climate viticulture and applying it to red wines.
Some of the best vineyard sites, or einzellage, have rocky soils and good drainage. The rocks retain the day's warmth and reflect it back onto the vines at night. The einzellagen on the rock-strewn hillsides above Assmanhausen, overlooking the Rhine River, are some of the best in Germany for Pinot Noir.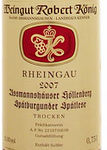 The low yielding vines help producers like Robert Konig make a superior wine that is absolutely worth seeking out. Konig's Assmannshauser Hollenberg Spatburgunder Spätlese Trocken (about $30), in particular, is a dry, medium alcohol, juicy wine with firm tannins and a real sense of place. 
– Ben Spencer is a diploma student with the Wine & Spirit Education Trust and an IntoWine Featured Writer
------------------------------------------------------

Not known for red wines, Germany actually produces quite a bit. Dornfelder and pinot noir dominate the red category with pinot noir (spätburgunder) being the most well know. But Americans can't pronounce that word, so we call it pinot.
The Becker Estate 2007 Pinot Noir ($17) shows classic German red fruit, a wisp of strawberry and game and tobacco. There is also a dominance of mineral qualities coming from the chalky soils in the Pfalz region which show themselves. With more acid too, Americans may not be used to less ripe fruit, but this is a great food wine and a wonderful introduction to German pinot noir. - Michael Cervin, Wine Judge, Restaurant Critic, and IntoWine Featured Writer