If you take a look at the Australian white wines available at a typical liquor store, you probably won't see much diversity.  You'll find chardonnay and riesling, and perhaps pinot grigio or sauvignon blanc.  And, most likely, you'll be missing out on the amazing range of white wines available from Australian producers.
 Australia's chardonnays and rieslings are well-known, but Australian winemakers also work with semillon, verdelho, pinot grigio, viognier and many other white wine grape varieties.  Some winemakers are creating wines from an even larger array of grape varieties, including arneis, fiano and albariño.
Australian chardonnays are undoubtedly the best known white wines from "Down Under," with rieslings running a close second.  With over 60 wine regions and hundreds of producers, it can be difficult to decide which Australian whites offer the best value for the money.
Fortunately, you don't have to navigate the maze of wine regions and unfamiliar labels by yourself.  IntoWine.com recently asked a group of wine experts to share their recommendations for best-value Australian white wines.  Here's what they had to say: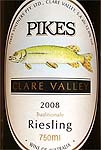 Just north of Adelaide is one of Australia's oldest wine regions, Clare Valley.  With wine history that dates back to 1852, Clare Valley has become the most important region for Riesling in Australia.  Here you will find the Pikes Winery, a family run business founded in 1982.  
 The Traditionale Riesling is dry and powerful with crisp citrus notes and minerality that keep the wine wound tight.  The finish has a warm citrus note with hints of grapefruit and tangerine.  This wine is beautiful now and will drink well for years to come.  The 2008 Pikes Riesling, Clare Valley, Australia, retails for $17.99 – Erica Landon, Sommelier, Ten 01, Portland, OR
----------------------------------------------------------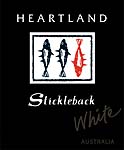 Good wine doesn't have to be pricey. Often wine gems under $15 and even $10 can be found.  One we love for the price is the 2007 Heartland Stickleback White that comes off the successful heels of its great predecessor, the Stickleback Red.  Stickleback White is an intriguing blend of 49% Semillon, 28% Chardonnay and 20% Verdelho from South Australia.  Made by winemaker Ben Glaetzer, who is renowned for his high scoring, often pricey Aussie reds, this wine is unique, fun and great for the wine drinker looking for value but also quality.  The wine's vibrant straw color gives way to masses of citrus zest on the nose with flavors in the mouth of lemon, pineapple and mango. It has a pronounced level of acid, which is pleasing, as well as a subtle richness.  This is great for the fall season also because it has plenty of body to welcome the cool weather.
 
National retail price would range from $10 – $13. – Jessica Granatiero, Owner, The Savory Grape, East Greenwich, RI
---------------------------------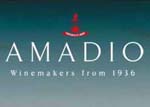 Australia is always known for a bold, brash style of wine.  The big Chardonnay and Shiraz wines are so popular with American wine drinkers.   Even though most Australian wines are great values with their friendly fruit flavors, I prefer wines that are significantly more subtle.  As a result, I had ruled out Australian wines - until I had an Australian Riesling from the Clare Valley.  The Amadio Riesling ($14.99 per bottle) has delicate peach and floral aromas with bright, lively acidity that seems to go splendidly with all types of exotic cuisine.  It is also so delightful and interesting to sip without food.  In fact, I now don't shy away from any Australian Rieslings - some are certainly under the $10 price point.  My recommendation - unscrew any Riesling (all are bottled with screwcaps) from down under. I have not been disappointed yet! – Jo-Ann Ross, CSW, Wine Educator, Boston, MA
---------------------------------
Australia continues to produce some phenomenal white wines, and the majority remains reasonably priced.  I particularly love any Australian wine made with Semillon in the mix – the creaminess and subtlety of flavors produced by the Semillon is wonderful.  Although the grape is originally from Bordeaux and is used there to produce the sweet Sauternes wines, Semillon truly shines in Australia.  A favorite (and well-priced) Australian white wine from MyWinesDirect.com is the Jump Rope Semillon-Chardonnay 2010.  Flavors like cream, lemon and pear combine to create a smooth and enjoyable everyday wine. - Leah Ramella, Wine Consultant, MyWinesDirect.com