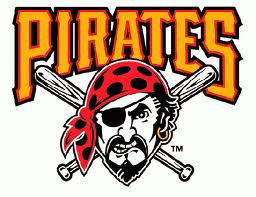 What's an appropriate wine to serve at a Pittsburgh Pirates themed party? What wine would be a good gift for a hard core Pirates fan?
 If you've ever met a Pittsburgh sports fan, you know that the city's identity is so closely aligned with its professional sports teams that an outsider could be forgiven for thinking that Pittsburgh wouldn't exist without them.  In fact, one of Pittsburgh's nicknames, "City of Champions," comes straight from its long history of winning teams.
Although the Pittsburgh Pirates have not had a winning season since 1992, as of this writing, the team boasts an impressive record, including nine National League championships and five World Series titles.  Throughout its long history – the team joined the National League in 1887 – the Pirates have nurtured talented players, started baseball traditions and, above all, created a fan base that has remained loyal for over 100 years.
Pittsburgh Baseball Facts
The Pirates were the first team to send an all-minority starting lineup onto the diamond; this 1971 team included Hall of Famers Roberto Clemente and Willie Stargell.  The Pirates were also the first Major League Baseball team to sign players from India, adding Dinesh Patel and Rinku Singh to the team's roster in 1998.  The Pirates were one of the first two baseball teams to have a game broadcast over the radio (versus the Phillies, on August 5, 1921).
Unfortunately, the Pirates have also set a record for the most consecutive losing seasons (18) by a professional sports team.  Nevertheless, Bucs fans turn out to enjoy the fun and fireworks at PNC Park, the team's home since 2001, and PNC Park sells out whenever the Pirates' fortunes seem to be improving.  Pittsburgh's devotion to its current team and to the legacies of past players and managers (Chuck Tanner, Bill Mazeroski, Honus Wagner and Danny Murtaugh leap to mind) make Steel City something much more than just another town with a pro baseball team.  Even the team's mascot, the Pirate Parrot, is unique.  (Tip: If you dislike Silly String, stay out of the Parrot's path.)
While Pittsburgh is better known for its beer than its wines, there are plenty of options available if you are pouring wine for a Pirates fan. 
Pittsburgh Area Wineries
While you won't find any wineries in downtown Pittsburgh, the Pittsburgh Countryside Wine Region   boasts 17 wineries, some of which also own their own vineyards.  Seven of these wineries are featured along the Southwest Passage Wine Trail.  For example, you could visit La Casa Narcisi Winery, a family-owned winery that produces wines from grapes grown in its own vineyard and in other Pennsylvania vineyards.  Stop by and enjoy a wine tasting experience or a meal at the on-site La Vite Ristorante.
Michael Stephen Kavic Winery, located just outside of Pittsburgh in Carnegie, bills itself as a "Pittsburgh proud" urban winery.  Michael Kavic and his wife, Patricia, grew up making wine with their respective families and returned to winemaking after many successful years in the medical and social work professions.  Today, Kavic uses only locally-grown grapes in his hand-crafted wines.
Glades Pike Winery, in the Laurel Highlands, produces award-winning dry, semi-dry, sweet, fruit and dessert wines.  One weekend each month in the summer and fall, Glades Pike Winery offers "Music in the Mountains," two afternoons of music at the winery.  Bring a picnic, buy a bottle of wine, spread your blanket and join in the fun.
Pirate-Themed Wines
Your favorite Pittsburgh fan might also enjoy tasting a pirate-themed wine.  Of all the several pirate-themed wines on the market, La Sirena 's Pirate TreasuRed should certainly be included in any tasting.  Famed California winemaker Heidi Peterson Barrett is the mastermind behind La Sirena Wine, the label she created in 1994 after a storied career with several top wineries.  Barrett crafts La Sirena Pirate TreasuRed from a blend of six varietals.  Expect to pay $50 to $75 for a bottle of 2008 La Sirena Pirate TreasuRed.
Mayers Lake Ontario Winery in Webster, New York, offers a wide array of wines under its Pirates Lagoon label.  White wine lovers might wish to try Pirates Lagoon Schooner White, while red wine aficionados might opt for Pirates Lagoon Black Pearl, Blackbeard or Jacks Red.  Prices start at $6 - $8 per bottle.
3 Finger Wine Company, a collaboration of three winery owners in Healdsburg, California, offers negociant wines under its Treasure Hunter Wines label.  Treasure Hunter wines are made from surplus wines purchased from other reputable producers, which are then labeled (with pirate-related names) bottled and sold by Treasure Hunter Wines.  Many releases sell out extremely quickly, so you'll want to watch carefully for Treasure Hunter's release announcements.  Expect to pay $25 for a bottle of 2008 Petite Sirah "The Admiral of the Black" and $21 for a bottle of 2008 Proprietary Red Blend "Jenny's Tea Cup" Sonoma County.