What's an approriate wine to serve at a New York Yankees themed party? What wine would be a good gift for a hard core Yankees fan?
No matter what time of year it might be, spring training is "just around the corner," either as a continuation of a favorite baseball team's good year or as a beacon of hope for a better season.  New York Yankees fans, in particular, usually have something to celebrate.  This storied Major League Baseball franchise, named "World's Most Valuable Sports Franchise" by Forbes.com, has captured 28 World Championships and seen 48 players (so far) named to the National Baseball Hall of Fame.  For New York Yankees fans, there's no better way to celebrate Yankee baseball than with a bottle of baseball-themed wine.
Whether you're watching a Yankees game in the comfort of your home or looking for a gift wine to present to a diehard Yanks fan, you have several options available.  If Yankee Stadium is too far away to visit, you can even create your own Yankee Stadium/NYY Steak wine experience in your own dining room – just grill a steak or chop and add a wine or two from our Yankee-themed recommendations.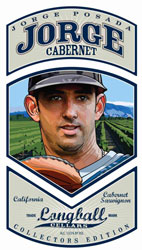 New York Yankees player Jorge Posada is one of several Major League Baseball players who have turned to Charity Wines to help raise money for a good cause, in this case the Jorge Posada Foundation.  Charity Wines' Longball Cellars created Jorge Cabernet, made from cabernet sauvignon grapes grown in San Martin, California.  Proceeds from sales of Jorge Cabernet go to the Jorge Posada Foundation, which benefits families of craniosynostosis sufferers and supports educational outreach about this condition.  The separations between the cranial (skull) plates of babies with craniosynostosis close too quickly, creating pressure on the brain and changing the shape of the head.  Surgery is the most-recommended treatment, and the Jorge Posada Foundation provides support to families who are looking for ways to pay for these operations.  A bottle of Jorge Cabernet, available through EventWines.com and a few other online retailers, sells for $10 to $15.
The Yankees' new home, which opened in 2009, is named Yankee Stadium after the iconic House that Ruth Built.  (The original Yankee Stadium closed at the end of the 2008 season and was demolished in 2010.)  NYY Steak, the new stadium's signature restaurant, began a series of wine tastings and dinners in 2010, starting with a tasting of Sonoma-Cutrer wines.  Sonoma-Cutrer's 2008 Sonoma Coast Chardonnay was named the most popular chardonnay wine in Wine & Spirits' 20th anniversary restaurant poll.  You don't have to go all the way to the Bronx to try this chardonnay; it is available for $20 to $24 per bottle at many wine shops.
NYY Steak also features wines from New York, specifically Long Island wines, in its wine dinners and on its wine list.  Pindar Vineyards, on Long Island's North Fork, is Long Island's largest winery.  Founded by Dr. Herodotus "Dan" Damianos, who first planted grapes in Peconic in 1980, Pindar Vineyards has expanded – 17 varietals are grown here – and transformed itself along the way into a popular tourist attraction.  NYY Steak serves Pindar Vineyards' Peacock Chardonnay by the glass, but you can buy it by the bottle (mainly in New York) for $7 - $11 per bottle.
The Damianos family also owns Duck Walk Vineyards, which features two properties: Duck Walk South in Water Mill (The Hamptons) and Duck Walk North in Southold on the North Fork of Long Island.  The imposing winery at Duck Walk South is built in Normandy château style.  Duck Walk Vineyards features both varietals and blends; its 2008 Blue Duck Merlot retails for $11 to $15 per bottle, while the 2007 Merlot Reserve sells for $18 to $20 per bottle.
If you can't make it to the Bronx for a wine dinner or tasting at NYY Steak, you can still enjoy wines associated with the New York Yankees during spring training, the regular season or, hopefully, the playoffs.