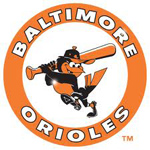 What's an appropriate wine to serve at a Baltimore Orioles themed party? What wine would be a good gift for a hard core Orioles fan?  
Even a short visit to Baltimore will reveal an important fact about Charm City's residents.  They are stubbornly passionate about the things that matter.  And, in Baltimore, sports teams definitely matter, particularly the Baltimore Orioles baseball team.  As Opening Day approaches each year, news reporters file stories on Orioles veterans, rookies and coaches, on the menu and management of Oriole Park at Camden Yards, the city's iconic stadium, its groundskeepers and staffers and on hopes for the new baseball season.  The city and its residents adorn themselves with Orioles orange and black.  With every Baltimore spring comes a renewed flowering of Orioles mania, an enthusiasm that diehard O's fans carry all the way through the season and playoffs.
Which wines should you serve to these passionate Orioles fans?  You will probably find that their pride in their baseball team extends to pride in all things Maryland – crab cakes, the renowned Chesapeake Bay, Smith Island cake – so it might be best to seek out Maryland wines to please your favorite O's fan.  Fortunately, you have plenty of wines to choose from, several of which boast close connections to Baltimore orioles and baseball.
No discussion of Maryland wine would be complete without mention of Boordy Vineyards, the state's first winery.  Baltimore County's Boordy Vineyards was founded by American winemaking pioneers Philip and Jocelyn Wagner.  Philip Wagner wrote the first book about winemaking in the U. S.; he and his wife, Jocelyn, introduced several hybrid grape varietals to American winemakers and began making wine themselves in 1945.  The Wagners sold Boordy Vineyards to the Deford family in 1980; the Defords continue to operate the vineyards and winery today.  Boordy Vineyards' Riesling Maryland Icon No. 6: Baltimore Oriole not only features the inspiration for the Baltimore Orioles' mascot on the label, it pairs very well with crab, seafood and other Maryland favorites.  You'll pay $12 to $14 for a bottle of Boordy Riesling.
Farther west, Frederick Cellars also uses the oriole motif on one of its wine labels.  Eye of the Oriole, a blush wine, won a silver medal at the 2010 Maryland Winemasters' Choice competition in Baltimore and a silver medal at the 2009 Maryland Governor's Cup Awards. Frederick Cellars, which purchased Catoctin Vineyards a few years ago, also teams with Antietam Vineyards.  Frederick Cellars' Trails End 2009, a blend of Riesling, Vidal and Seyval, won the Best in Show award for off-dry wine at the 2010 Maryland Winemasters' Choice competition.  Expect to pay $12 to $14 for a bottle of Eye of the Oriole and $13 - $14 for a bottle of Trails End.
Terrapin Station Winery, located in Elkton, Maryland, combines wine and baseball in a truly unique way.  Terrapin Station Winery is home not only to a winery dedicated to "fun stuff," it is also the home field of the Cecil Base Ball Club of Chesapeake City, a member of the Mid-Atlantic Vintage Base Ball League.  If you've never seen a vintage base ball game, consider planning a trip to Terrapin Station on a game day.  Vintage baseball teams play according to Civil War-era rules, 1864 rules in the Cecils' case.  In its effort to keep things fun and understandable to the average wine consumer, Terrapin Station "bottles" only 1.5 liter box wines – three whites, three reds and a dessert wine.  Terrapin Station Winery does look beyond "fun stuff," of course.  In addition to producing wines that win medals at state competitions, the winery's owners donate part of their sales receipts to the Terrapin Institute, which is dedicated to preserving the Diamondback Terrapin, Maryland's state reptile and mascot of the University of Maryland, College Park.  You'll pay $22 - $25 for a box of Terrapin Station wine.
Baseball is just one of Maryland's long-standing traditions.  Legends Vineyard, founded by Ashby and Carrie Everhart in 2005, has not only produced award-winning wines in a very short time, but also partnered with the skipjack Martha Lewis, one of the last of Maryland's operational oyster dredging boats, to offer monthly wine cruises during the summer.  What could be more authentically Maryland than a sunset cruise on the Chesapeake Bay?  Expect to pay $10 - $12 for a bottle of Legends Vineyard wine.  Many varietals and blends are available, including Vidal Blanc, Pinot Gris, Chardonnay, Riesling, Traminette, Meritage, Cabernet Sauvignon, and several blended wines.
Baltimore, like many cities on the eastern seaboard of the United States, has been a magnet for immigrants for several centuries.  Baltimore's Little Italy is just one of Charm City's many immigrant neighborhoods.  Maryland continues to welcome immigrants, and the state's wine industry has been enriched by their Old World heritage.  Mike Fiore, who founded Fiore Winery with his wife, Rose, in 1986, brought his love of vineyard management from his native Italy to Maryland's Harford County.  Fiore Winery's varietals, blends and fruit wines bring home awards from state, national and international competitions.  Like Legends Vineyard, Fiore Winery partners with the skipjack Martha Lewis to offer wine cruises during the summer months.  If you're in the market for one of Fiore Winery's top wines, expect pay up to $22 per bottle.
Maryland's native sons have distinguished themselves on baseball diamonds around the country.  Babe Ruth, Jimmie Foxx, Frank Baker, Judy Johnson, Cal Ripken, Jr. and many more Marylanders have found their way into the record books and the Baseball Hall of Fame.   Likewise, it appears that Maryland's growers and wine producers have found their "sweet spots" in a thriving state industry.