We're sorry, this video is not available rnow. Please check back later.
In this episode of IntoWineTV, host Lisa Kolenda and wine experts Bartholomew Broadbent, Loren Sonkin, and Edward Ruiz convene at one of San Francisco's finest restaurants, Incanto, to taste and discuss wines from wineries referenced in the movie Sideways.
Theme: Wines from Sideways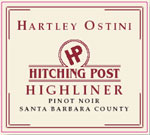 Wine: 2006 Hartley Ostini Hitching Post Highliner Pinot Noir ($42)
Find Hartley Ostini Hitching Post Pinot Noir

Region: Santa Ynez Valley, Santa Barbara County, California

Alcohol content: 14.5%
Sideways Connection: Frank Ostini, owner and Executive Chef of the HItching Post II Restaurant and co-owner of Hartley Ostini Hitching Post Winery reminisces about the screenplay and the experience:
"Sideways started more than 5 years ago as Rex Pickett (writer of the recently published novel, Sideways) would often hang out at our bar on his visits here from Southern California. He said he was writing a book about our region, its wines, wineries, restaurants and people. He said the bartender and a waitress were in it. I, being somewhat of a skeptic, didn't believe it would ever be published. Boy, was I wrong! Only in June of 2003 did we realize that Sideways would be a movie as location scouts began to comb the Santa Ynez Valley. Rex really had written a novel, and that manuscript had been picked up by directer Alexander Payne. His people were setting up filming in many of the places that Rex had visited and written into his soon-to-be book. The Hitching Post was one of those places. I, still being the skeptic, wasn't sure I wanted the HP to be part of this. Would they treat the Hitching Post, the HP and all my friend's wines, and our region with honor and respect?
I met the with the producer Michael London and many of his staff. I asked a million questions. After reading the script, I had issues with some of the content. I met with Alexander Payne to discuss these issues. He took note of what I had to say, although I knew he wasn't going to change his movie on my account. But I was convinced he was a sensitive, creative and very talented director. I knew we should be involved as much as we could. Before filming started actress Virginia Madsen, who plays a waitress in the HP, came and spent time in our kitchen and bar to get a feeling of what that job is like and who we are. We also took her and co-star Sandra Oh to our winery to show them how we make wine. We also took them to Au Bon Climat winery where they enjoyed a famous Jim Clendenen lunch.
Sideways was filmed in our region over ten weeks in October/November 2003. They used the Hitching Post for three days. We were braced for an unconfortable experience, having heard that Hollywood filmmakers would trample our location, and all of us in their way. Instead, everyone on the Sideways team was considerate and a pleasure to work with and to be with. They were all so happy and glad to be working on this quality film with such a wonderful director in the beautiful Santa Ynez Valley. We were and are so happy to have been a part of Sideways!"
 
Producer Notes:
- Upcoming IntoWineTV Video Themes
- Wine producers and distributors: Find out how to get your wines included in our next session. More info...
Background: Hartley-Ostini Hitching Post wines are made by Buellton Hitching Post owner/chef Frank Ostini and his good friend, former fisherman Gray Hartley. Frank and Gray first made wine at home in 1979. They found their first Pinot Noir in 1981. The project moved to a winery in 1984 to make wines exclusively for the Hitching Post Restaurant.  From 1991 to 2000, Frank and Gray made their wines at Au Bon Climat/Qupe Winery, and from 2001 to 2007 at Central Coast Wine Services in Santa Maria. Production has grown from 1200 cases in 1991 to 4700 in 2001 to over 15,000 cases in 2007. With the 2008 harvest, Frank and Gray have moved the winemaking to Terravant Winery, a new ultra premium facility in Buellton, just 1.5 miles from the Hitching Post II. Winery tours and tastings will be available in Spring 2009.
Experts:
Bartholomew Broadbent, CEO of Broadbent Selections. Bartholomew was named as one of the "fifty most influential people in the wine world" by Decanter Magazine. He is also widely considered to be one of the world's foremost authorities on Port and Madeira. Learn more about Bartholomew Broadbent.
Loren Sonkin is an IntoWine.com Featured Contributor and the Founder/Winemaker at Sonkin Cellars.
Edward Ruiz, Wine Director at San Francisco's Incanto Restaurant. 
Location: Incanto Italian Restaurant & Wine Bar, Situated in the heart of one of San Francisco's most charming residential neighborhoods, Incanto's rustic Italian setting, with its handcrafted stone, antique brick and woodwork, 16th century Latin parchments, and private dining room dedicated to poet Dante Alighieri, provides a uniquely warm and inviting dining environment.
Incanto's daily-changing menu honors old-world traditions including house-cured meats, unusual regional pastas, fresh local seafood and a commitment to sustainably grown and harvested produce. Incanto's award-winning wine program features one of the most diverse Italian wine lists in the United States and an ever-changing lineup of more than twenty wines by the glass, half-glass, half-liter, and flight.