Norm Yost started his career into the world of wine as a beer drinking football player, specifically offensive guard and tackle. Sure, he was at UC Davis, but he had been recruited right out of high school to play football, Division 2, not to do any mamby-pamby wine related stuff. His roommate in college was studying fermentation science and enology and would conduct wine tastings, which got Norm's attention. "I was really intrigued by it," he recalled.
Though football was never going to be a fulltime occupation (his dad wanted him to be a lawyer) Norm found himself out of a job after school. He had done some construction work here and there and his roommate encouraged him to get a job at a winery. Norm didn't possess any wine related skills, however the construction angle worked. He got a gig at one of the most well known wineries in Napa. "I got a job at Silver Oak for the summer." OK, so it wasn't really wine related. "Their new winery was being built and the old one was being torn down. I was tearing off the dormers on the old winery barn." Not exactly a grand entrance into the world of wine, but by this time Norm was hooked on the wine scene.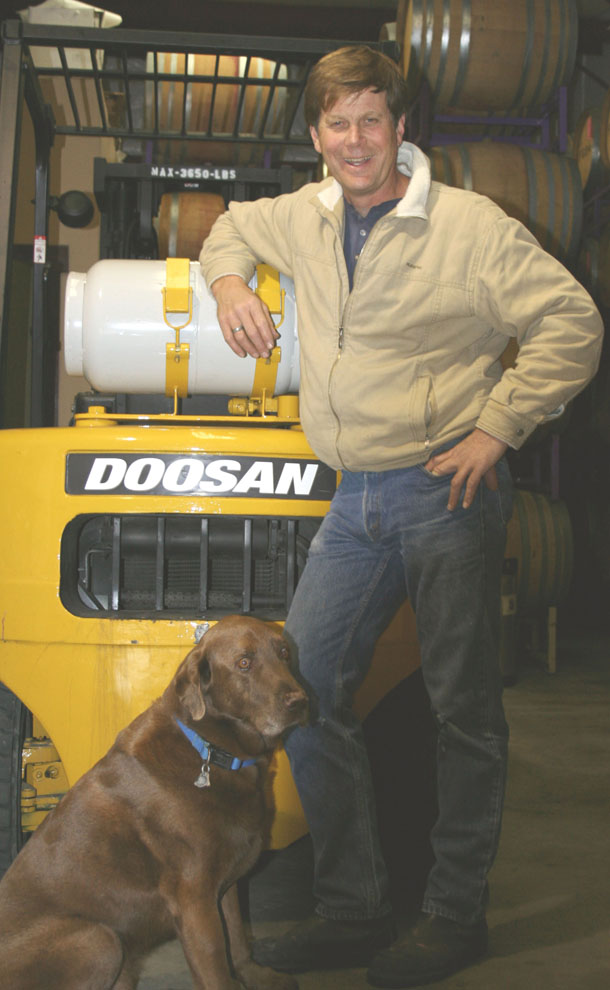 Not long after the "summer of destruction" Norm found himself as assistant winemaker at Monticello Vineyards in Napa, "where I cut my teeth," he said. He continued to take extension classes from UC Davis, actual classes, not running patterns on a gridiron this time, and eventually graduated from the Enology and Viticulture program. After a few years he moved to Mark West Vineyards in the Russian River Valley, where the focus was on the cooler climate wines, including what would prove to become his passion, pinot noir. He escaped to Australia for a season then went to work at wineries in Oregon for nearly a decade. His old winemaker boss from the Monticello days had moved south, working at Foley Winery in Santa Barbara. Norm had been drinking some of the early Central Coast wines; Wild Horse, Byron and Au Bon Climat, and had an inkling of what the central coast region of California could produce.
He left Oregon to join Foley Winery and in 2000, a friend and fellow winemaker, Doug Braun of Presidio Winery, sold Norm four tons of excess fruit. "That was the beginning of Flying Goat," Norm explains. "I thought I'd make a few barrels. I visited my tax person and they told me I'd either need to start a family or start a label." He opted for the less stressful (some would argue) avenue of staring a winery. "I thought if I'm going to put my name on a wine, it's got to be interesting and fun." For some reason, one he never fully explained, Norm had pygmy goats, and they used to launch themselves off a little house he had built for them, flying through the air with the greatest of ease, to use an overwrought phrase. His first pinot noirs hit the market in 2002.
Norm adores pinot noir, and decided to stick with only pinot noir grapes and their derivatives. He has no grand diverse portfolio of wines, only pinot noir he sources from specific vineyard blocks in two counties. He makes seven iterations of pinot noir, small batches of stainless steel fermented pinot gris, and what he affecitionally calls Goat Bubbles, a pinot noir sparkling wine made in the traditional methode champenoise style from clone 23. All pinot, all the time. "It's a versatile grape. You can make a sparkling, then turn around and make a red wine. It's delicate but also has these phenomenal flavors," he says.
Ultimately however, he makes what he likes to drink. And Norm doesn't care for the over extracted, heavy oaked pinots. "You don't need to hide that beautiful black cherry fruit," he says. Certainly, if you're four thousand dollars a ton for pinot noir grapes, the fruit deserves a viable platform to express itself. And this is why Norm limits his new French oak barrels to a mere 25 percent, the balance of the barrels being 1-5 years old.
"With older barrels you can really identify the fruit more easily," he explained. Apparently some people agree with him. His 2005 Rancho Santa Rosa Pinot Noir won the Sweepstakes Award at the 2007 San Francisco Wine Competition. Simply, put out of nearly 4,000 wines, Norm came out on top. His 2005 Dierberg Vineyard Pinot Noir also won a gold medal in San Francisco. He's recently moved into a new space in the "Lompoc wine ghetto," an uninspiring industrial complex where over a dozen winemakers craft their juice in Santa Barbara County.
Producing pinot noir means the inevitable clonal variations, more prominent with this grape than any other. "I've become an advocate for clone 2A. It's interesting, offbeat and has nuances that are a more feminine style," he says. Though Norm uses 667, 777 and 115 and enjoys what the classic Dijon clones produce, 2A, also known as wadenswil, is what intrigues him currently. "It's less structured and not so extracted, but rather elegant." And for a man with a passion for pinot, he's worth listening to. It's a long way from the gridiron days and many years since he tore down the old Silver Oak Winery, but Norm Yost has stayed true to his passion of perfecting pinot noir.