We're sorry, this video is not available rnow. Please check back later.
Subscribe to the IntoWineTV Podcast on iTunes
In this episode of IntoWineTV, host Lisa Kolenda and wine experts Bartholomew Broadbent, Loren Sonkin, and Edward Ruiz convene at one of San Francisco's finest restaurants, Incanto, to taste and discuss wines from wineries referenced in the movie Sideways.
Theme: Wines from Sideways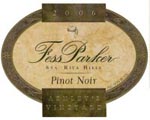 Wine: 2006 Fess Parker Ashley's Vineyard Pinot Noir ($49.99)
Find Fess Parker Ashley's Vineyard Pinot Noir

Region: Sta. Rita Hills, Santa Barbara County, California
Varietals: 100% Pinot Noir
Alcohol %: 14.7%

Sideways Connection: The infamous dump bucket scene in Sideways was filmed at Fess Parker however they changed the name to Frass Canyon for the movie. 
 
Producer Notes:
- Upcoming IntoWineTV Video Themes
- Wine producers and distributors: Find out how to get your wines included in our next session. More info...
Background: When Fess Parker was cast in the roll of Davy Crockett in the mid-1950's, it caused an international sensation and changed his life forever. So too did the purchase of 714 acres in the Santa Ynez Valley change the course of the Parker family's history.
Realizing the potential of Santa Barbara County as a premium grape-growing region, Fess and his son, Eli, originally set out in 1989 to plant a small vineyard and sell fruit to local producers. But, as Fess' daughter, Ashley explains, " Fess is from Texas, so he can't do anything small. "The Fess Parker Winery and Vineyard now farms almost 700 acres on four vineyards throughout Santa Barbara County.
The characters Fess portrayed, Davy Crockett and Daniel Boone, inspired generations of Americans. Throughout the late 1950's and 1960's Fess was at the pinnacle of a television career that has an unprecedented impact upon American popular culture. But is was Fess' entrepreneurial spirit that prompted his leaving Hollywood to go into business for himself. The traits that Crockett and Boone embodied - integrity, resourcefulness and good humor -- L-R Tim Snider, Fess Parker, Ashley Parker Snider, Eli Parkercarried over to Fess' personal life and formed the foundation upon which the family business was built. First-class hospitality has always been at the core of their ventures, first as hoteliers and eventually with the opening of the winery.
Experts:
Bartholomew Broadbent, CEO of Broadbent Selections. Bartholomew was named as one of the "fifty most influential people in the wine world" by Decanter Magazine. He is also widely considered to be one of the world's foremost authorities on Port and Madeira. Learn more about Bartholomew Broadbent.
is an IntoWine.com Featured Contributor and the Founder/Winemaker at Sonkin Cellars.
Edward Ruiz, Wine Director at San Francisco's Incanto Restaurant. 
Location: Incanto Italian Restaurant & Wine Bar, Situated in the heart of one of San Francisco's most charming residential neighborhoods, Incanto's rustic Italian setting, with its handcrafted stone, antique brick and woodwork, 16th century Latin parchments, and private dining room dedicated to poet Dante Alighieri, provides a uniquely warm and inviting dining environment.
Incanto's daily-changing menu honors old-world traditions including house-cured meats, unusual regional pastas, fresh local seafood and a commitment to sustainably grown and harvested produce. Incanto's award-winning wine program features one of the most diverse Italian wine lists in the United States and an ever-changing lineup of more than twenty wines by the glass, half-glass, half-liter, and flight.