We're sorry, this video is not available rnow. Please check back later.
Subscribe to the IntoWineTV Podcast on iTunes
In this episode of IntoWineTV, host Lisa Kolenda and wine experts Bartholomew Broadbent, Loren Sonkin, and Edward Ruiz convene at one of San Francisco's finest restaurants, Incanto, to taste and discuss wines from wineries referenced in the movie Sideways.
Theme: Wines from Sideways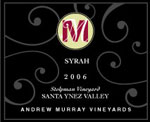 Wine: 2006 Andrew Murray M Stolpman Vineyard Syrah ($34)
Find the Andrew Murray M Stolpman Vineyard Syrah

Region: Santa Ynez Valley, California
Alcohol %: 15.5%

Sideways Connection:  "In the movie, we were unjustly accused of making wines that were too high in alcohol…though, we were one of the few remaining wineries that were still sensitive to the notion that wines were getting too high in alcohol and thus losing their varietal character…I was asked to debate this with fellow vintners on NBC primetime, etc…We still watch our alcohol levels quite closely, this just happens to be a big, yummy Syrah (a bit Shiraz like) that is a bit higher in alcohol and plays beautifully in with the comments from the film.  (BTW, the scene was originally written with another winery's wine in mind…they fell out of grace with director of the film, while we had be-friended the filmmakers. So they snuck our wine into that scene, without any re-writes…thus the unjust notion that we make wines with too much alcohol…)
- Upcoming IntoWineTV Video Themes
- Wine producers and distributors: Find out how to get your wines included in our next session. More info...
We became friends with the director and some other folks including a couple of the actors, and some of the behind the scenes folks as well.  The artistic director leased out our Guest House for about 6 months and stayed out at our old Vineyard property.  She was (is) a very kind and fun lady.  The film makers truly fell in love with the area and lived in our area for entire filming and some of the post production…They became a bit discouraged with some of the local wineries when they asked to film scenes at various wineries and the owners would ask for ridiculous amounts of money for "quickie" shots and b roll stuff.  Given our closeness with the filmmakers and our mutual trust, I let the filmmakers film several scenes at our old vineyard site…it is fun for me to watch and see the many different places we show up in the film…they filmed us bottling, the red saab driving our long windy drive way, photographic stills, etc.  We never asked for anything in return.  They really wanted to include AMV in the final movie, but we weren't really in any major scenes in the original book and thus not in the script.  So, they leaked me an early copy of the script and let me read it and then told me about the scene in which they wanted to feature our Syrah (our Roasted Slope as it turns out).  I truly did not care to be in the film as I thought that about 500 people would want to see the film.  Then I read the script and realized that it was a very funny and complex little movie…I still never thought that it would be the phenom that it became…perhaps I would have tried harder…  Never the less, they used the wine in the scene and then showed me the dailies for approval, given the slightly negative comments on the wine…I signed off on them and thus we were officially in the movie…Sort of funny how wildly successful the film has become.  It created quite a stir in our little town of Los Olivos, where customer visitorship went up considerably.  Many locals hated the new influx of visitors including some of the "jealous" vintners that proudly proclaimed that "they were not featured in the movie Sideways".  We saw the increased visibility of our area as a true asset to be relished and the new interest in the wines of region as a great opportunity to educate a new generation of wine consumers.  I haven't seen the movie in a long time (just saw it once), but we were one of the few wineries mentioned by name…many were inferred and more were sort of just in the background…kind of funny to go down this memory lane." - Andrew Murray
Background: Andrew Murray fell in love with the emerging Rhône varieties, Syrah and Viognier, in the late '80s while traveling through the Rhône Valley. He took that passion further when he headed out for a short internship in Australia in 1992 to learn more about the famed Australian Shiraz. There he fell so in love with Syrah that he overstayed his planned three months by almost a year. When he returned home, he earned a degree in viticulture and oenology from U.C. Davis and started his eponymous vineyard and winery, working with growers who mirrored his passion for excellence. He found vineyard owners who matched his desire for perfection, and who farmed their vines to ruinously low yields with the most advanced viticultural methods. Andrew's razor sharp vision can be surmised succinctly in the company motto, "Handcrafted wines from steep hillside vineyards, planted exclusively to Rhône Varieties."
All of the focus, passion, and dedication have paid off. Today, Andrew Murray Vineyards is considered, "One of Santa Barbara's finest wineries," by Robert Parker,Jr. and the editors of Food and Wine magazine were in agreement when they named Andrew as the "Tastemaker Of the Year" in 2004.
Wine Notes: The Stolpman Vineyard lies along the beautiful Ballard Canyon Road, in what I would call a moderate zone…not quite cool, not quite warm. The soils are laden with limestone, which mimic the great soils of the Northern Rhone region of France. This produces a very "classy" Syrah that hides its "bigness" quite well. The vineyard owners have stopped selling fruit as of the 2008 vintage so this is the 2nd to last Stolpman Vineyard Syrah that we will craft. It is one not to be missed. It should continue to age for 3-4 more years. 
Experts:
Bartholomew Broadbent, CEO of Broadbent Selections. Bartholomew was named as one of the "fifty most influential people in the wine world" by Decanter Magazine. He is also widely considered to be one of the world's foremost authorities on Port and Madeira. Learn more about Bartholomew Broadbent.
is an IntoWine.com Featured Contributor and the Founder/Winemaker at Sonkin Cellars.
Edward Ruiz, Wine Director at San Francisco's Incanto Restaurant. 
Location: Incanto Italian Restaurant & Wine Bar, Situated in the heart of one of San Francisco's most charming residential neighborhoods, Incanto's rustic Italian setting, with its handcrafted stone, antique brick and woodwork, 16th century Latin parchments, and private dining room dedicated to poet Dante Alighieri, provides a uniquely warm and inviting dining environment.
Incanto's daily-changing menu honors old-world traditions including house-cured meats, unusual regional pastas, fresh local seafood and a commitment to sustainably grown and harvested produce. Incanto's award-winning wine program features one of the most diverse Italian wine lists in the United States and an ever-changing lineup of more than twenty wines by the glass, half-glass, half-liter, and flight.