We're sorry, this video is not available rnow. Please check back later.
Subscribe to the IntoWineTV Podcast on iTunes 
In this episode of IntoWineTV, host Lisa Kolenda and wine experts Bartholomew Broadbent, Laely Heron, and Loren Sonkin convene at one of San Francisco's finest restaurants, Incanto, to taste and discuss Merlots that rock.
Theme: @#$% Sideways! Merlots that Rock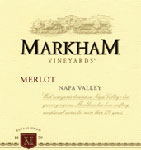 Wine: 2005 Markham Merlot ($17)
Region: Napa Valley

Alcohol content: 13.8%
Varietals: 93% Merlot, 5% Cabernet Sauvignon & 2% Cabernet Franc 
Producer Notes:
- Upcoming IntoWineTV Video Themes
- Wine producers and distributors: Find out how to get your wines included in our next session. More info...
Background: In 1874 Jean Laurent, an immigrant from Bordeaux, France, started his Laurent Winery on the current site of Markham Vineyards. Laurent's first winery was an insignificant wooden structure, which he replaced with a 6000 square foot stone winery in 1879 to meet the demands of his growing winery production. Laurent was one of the top-ten wine producers in Napa County. In 1890, Laurent died at the young age of 53 and over the next 87 years the Laurent winery changed ownership many times.
Bruce Markham arrived in the Napa Valley almost 100 years after Laurent, also looking to start a winery. Markham bought the Yountville vineyard in 1975, the Calistoga vineyard in 1976, the old Laurent Winery in 1977 and the Oak Knoll vineyard in 1978. With almost 225 planted acres and a winery, Bruce Markham founded Markham Vineyards in 1978 and the old Laurent Winery was reborn.
Markham focused on Cabernet Sauvignon in its early days and introduced the Markham Merlot with the 1980 vintage. From 1978 to 1988 the winery's production increased from 3,500 cases to 20,000 cases. The wine quality and praise from wine critics and consumers increased as well.
In 1988, the old Laurent Winery once again rose like a phoenix to take on another new life. The winery was sold to Mercian Corporation and began an ambitious four-year, multi-million dollar renovation, expansion and vineyard-replanting program. These efforts would more than double the capacity and make Markham one of the most advanced, stunning winemaking facilities in the country. Even through the dust of the renovation, Markham was able to produce three of the number-one rated wines from California, as judged by Wine Spectator magazine.
Wine Notes: What this wine lacks in age, it more than makes up for in youthful exuberance. Cola, vanilla and cherry jam aromas are most prominent, but layers of toffee, toast and rasberry fruit really create excitement. Fleshy plum flavors are rounded out with velvety tannins and a wonderful creamy texture. Enjoy now and take advantage of this Merlot's ability to be enjoyed in its youth or hold to allow the more intriguing layers to develop and show more complexity. Aromas of cola, vanilla and cherry jams are prominent, but layers of toffee, toast and rasberry fruit really create excitement. Fleshy plum flavors are rounded out with velvety tannins and a wonderful creamy texture.
 
Experts:
Bartholomew Broadbent, CEO of Broadbent Selections. Bartholomew was named as one of the "fifty most influential people in the wine world" by Decanter Magazine. He is also widely considered to be one of the world's foremost authorities on Port and Madeira. Learn more about Bartholomew Broadbent.
Laely Heron, Owner and Winemaker at Heron Wines. Laely's unconventional upbringing in Africa, Asia Europe and the US may explain the wanderlust which has led her passion for international wine studies and winemaking.  She began at the Institute of Enology in Bordeaux, and worked in the US, Australia and Scandinavia before starting Heron Wine 13 years ago.  Today she makes wine in France, Spain and the US. Learn More about Laely Heron.
Loren Sonkin is an IntoWine.com Featured Contributor and the Founder/Winemaker at Sonkin Cellars.
Location: Incanto Italian Restaurant & Wine Bar, Situated in the heart of one of San Francisco's most charming residential neighborhoods, Incanto's rustic Italian setting, with its handcrafted stone, antique brick and woodwork, 16th century Latin parchments, and private dining room dedicated to poet Dante Alighieri, provides a uniquely warm and inviting dining environment.
Incanto's daily-changing menu honors old-world traditions including house-cured meats, unusual regional pastas, fresh local seafood and a commitment to sustainably grown and harvested produce. Incanto's award-winning wine program features one of the most diverse Italian wine lists in the United States and an ever-changing lineup of more than twenty wines by the glass, half-glass, half-liter, and flight.