We're sorry, this video is not available rnow. Please check back later.
In this episode of IntoWineTV, host Lisa Kolenda and wine experts Bartholomew Broadbent, Laely Heron, and Loren Sonkin convene at one of San Francisco's finest restaurants, Incanto, to taste and discuss Merlots that rock.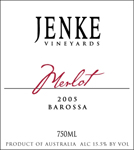 Theme: @#$% Sideways! Merlots that Rock
Wine: 2005 Jenke Vineyards Merlot ($22)
Region: Barossa Valley, Australia

Alcohol content: 15.5%
Producer Notes:
- Upcoming IntoWineTV Video Themes
- Wine producers and distributors: Find out how to get your wines included in our next session. More info...
Background: Johann Jenke arrived in Port Adelaide in 1854 and settled in the Barossa. The Jenke family was part of the wave of German immigration at this time as they were fleeing the religious persecution in Silesia (East Germany). The family has now tended the same family vineyards for six generation's. The family made its first wine under the Jenke label in 1989.
The Vineyard: The vineyard is situated on the rich alluvial river flats of the North Para River, at Rowland Flat, at the southern end of the Barossa Valley. It consists of 140 acres of premium Barossa grapes. The grape varieties include Chardonnay, Semillon, Grenache, Mourvedre, Cabernet Franc, Merlot, Cabernet Sauvignon and Shiraz. Many vineyards are well over 50 years old. The vines are all hand pruned on single wire vertical trellis systems.
The Wines: A small range of Barossa varietals are released each year from the Jenke Vineyards. The aim is to produce wines that best show their Barossa varietal highlights. The Jenke wines have won many awards, including the trophy for the best varietal Semillon at Barossa wine show 4 times.  Their Semillon has also taken out the prestigious South Australia 'Wine of the Year' at the Advertiser/Hyatt wine awards in 2006 and 2007. A barrel fermented Chardonnay is also produced.
Reds are 80% of production at Jenke Vineyards. A traditional Barossa Shiraz is produced as well as a full-bodied Cabernet Sauvignon. Cabernet Franc, Merlot, Grenache/Shiraz blend is also produced. In the best years, Jenke releases a 'reserve' varietal of Shiraz and Cabernet Sauvignon representing the best barrels of the vintage.

Wine Notes: This is Jenke's ninth release Merlot varietal. The grapes were grown on Jenke's Golf Link's Vineyard that adjoins the Para River in the Barossa Valley. This wine was barrel fermented in French oak barrels. The wine is a medium to full bodied style highlighting the characters of Merlot. Sweet and generous aromas of ripe plums, blueberries and juicy mulberries are complimented by some savory herbal characteristics. A veritable mouthful of fleshy fruit flavors – plum, cherries and red currants underlined by soft dusty tannins. There are some savory spices that add character and complexity to a long, lingering finish.
Experts:
Bartholomew Broadbent, CEO of Broadbent Selections. Bartholomew was named as one of the "fifty most influential people in the wine world" by Decanter Magazine. He is also widely considered to be one of the world's foremost authorities on Port and Madeira. Learn more about Bartholomew Broadbent.
Laely Heron, Owner and Winemaker at Heron Wines. Laely's unconventional upbringing in Africa, Asia Europe and the US may explain the wanderlust which has led her passion for international wine studies and winemaking.  She began at the Institute of Enology in Bordeaux, and worked in the US, Australia and Scandinavia before starting Heron Wine 13 years ago.  Today she makes wine in France, Spain and the US. Learn More about Laely Heron.
Loren Sonkin is an IntoWine.com Featured Contributor and the Founder/Winemaker at Sonkin Cellars.
Location: Incanto Italian Restaurant & Wine Bar, Situated in the heart of one of San Francisco's most charming residential neighborhoods, Incanto's rustic Italian setting, with its handcrafted stone, antique brick and woodwork, 16th century Latin parchments, and private dining room dedicated to poet Dante Alighieri, provides a uniquely warm and inviting dining environment.
Incanto's daily-changing menu honors old-world traditions including house-cured meats, unusual regional pastas, fresh local seafood and a commitment to sustainably grown and harvested produce. Incanto's award-winning wine program features one of the most diverse Italian wine lists in the United States and an ever-changing lineup of more than twenty wines by the glass, half-glass, half-liter, and flight.