We're sorry, this video is not available rnow. Please check back later.
In this episode of IntoWineTV, host Lisa Kolenda and wine experts Bartholomew Broadbent, Loren Sonkin, and Edward Ruiz convene at one of San Francisco's finest restaurants, Incanto, to taste and discuss wines made by celebrities.
Theme: Celebrity Wines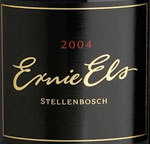 Wine: 2004 Ernie Els ($95)
Region: Stellenbosch, South Africa

Alcohol content: 14.7%
Varietals: 62% Cabernet Sauvignon 24% Merlot 6% Petit Verdot 4% Cabernet Franc 4% Malbec
Producer Notes:
- Upcoming IntoWineTV Video Themes
- Wine producers and distributors: Find out how to get your wines included in our next session. More info...
Background: "The vision of Jean Engelbrecht and Ernie Els is to produce incomparable South African red wines of new world style and old world elegance to compete with the finest wines of the world." The concept of Ernie Els Wines was created out of a partnership between wine visionary Jean Engelbrecht and golf legend Ernie Els. The goal from its inception was to create superior South African red wines of international standard. With help from award winning winemaker Louis Strydom, Engelbrecht and Els produced their maiden vintage, "Ernie Els" wine, in 1999. Based on their initial success, Jean and Ernie opened the Ernie Els Winery five years later, located on a Helderberg Mountain slope in Stellenbosch, South Africa. Stellenbosch, with its diverse topography and ideal climate for growing world-class grapes, was the perfect location to establish their vineyards and winery. It was here that the long time friends achieved their goal and expanded the portfolio to include quality red wines of different varieties at various price points:
- Ernie Els: The flagship wine by the partnership now stands as one of South Africa's elite Bordeaux blends.
- Engelbrecht Els: A wine created to celebrate Ernie's preference for Bordeaux style blends and Jean's love of Shiraz.
- Cirrus Wines: A joint venture between Jean Engelbrecht, Ernie Els and Ray Duncan of Napa's iconic Silver Oak Cellars, providing a single, quintessential South African Syrah.
- Guardian Peak: A series of South African red wines accessible in both style and price.
Wine Notes: Ernie Els is the flagship wine of the partnership between South African vintner Jean Engelbrecht and golf legend Ernie Els. This five varietal Bordeaux blend reflects the diversity of the Stellenbosch terroir. Created by master cellar Louis Strydom, Ernie Els is now one of South Africa's elite blends. Fruit driven with a combination of red currant, cassis, and plum fruits. The fruit is supported by violets, with hints of vanilla and spice. Well-built, with black currant, herb, tobacco and fig flavors.
Experts:
Bartholomew Broadbent, CEO of Broadbent Selections. Bartholomew was named as one of the "fifty most influential people in the wine world" by Decanter Magazine. He is also widely considered to be one of the world's foremost authorities on Port and Madeira. Learn more about Bartholomew Broadbent.
is an IntoWine.com Featured Contributor and the Founder/Winemaker at Sonkin Cellars.Edward Ruiz, Wine Director at San Francisco's Incanto Restaurant.  
Location: Incanto Italian Restaurant & Wine Bar, Situated in the heart of one of San Francisco's most charming residential neighborhoods, Incanto's rustic Italian setting, with its handcrafted stone, antique brick and woodwork, 16th century Latin parchments, and private dining room dedicated to poet Dante Alighieri, provides a uniquely warm and inviting dining environment.
Incanto's daily-changing menu honors old-world traditions including house-cured meats, unusual regional pastas, fresh local seafood and a commitment to sustainably grown and harvested produce. Incanto's award-winning wine program features one of the most diverse Italian wine lists in the United States and an ever-changing lineup of more than twenty wines by the glass, half-glass, half-liter, and flight.