We're sorry, this video is not available rnow. Please check back later.
In this episode of IntoWineTV, host Lisa Kolenda and wine experts Loren Sonkin, Mulan Chan, and Edward Ruiz convene at one of San Francisco's finest restaurants, Incanto, to taste and discuss great port wines.
Theme: Great Port Wines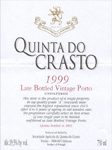 Wine: 2000 Quinta do Crasto Late Bottled Vintage Porto ($24.95)
Region: Douro Valley, Portugal

Alcohol content: 19.1%
Producer Notes:
- Upcoming IntoWineTV Video Themes
- Wine producers and distributors: Find out how to get your wines included in our next session. More info...
Background: The modern winemaking era of Quinta do Crasto dates back as far as 1615, but its Roman ruins suggest earlier viticultural activity. For years, the vineyard, owned by the Roquette family, sold its grapes to A.A. Ferreira until a revision in shipping laws made it possible for Quinta do Crasto to ship its own Port. Besides Port, Quinta do Crasto has been producing high-quality single quinta table wines in the Douro Valley since 1994. Modern winemaking facilities combined with the use of traditional Douro varietals like Tinta Roriz and Touriga Nacional, have earned Quinta do Crasto tremendous international acclaim for its range of table wines. Port is, and always will be, a fundamental part of Quinta do Crasto; the quinta's commitment to Port is evidenced in the high quality of its fortified wines. In the case of Ports and table wines alike, only the best wines of the quinta's total production are bottled under the Quinta do Crasto label.
Wine Notes: Shows lifted, ripe fruit aromas on the nose. It has a lighter palate, with good spicy, berry fruit flavors. Ready to drink.
Experts:
Loren Sonkin is an IntoWine.com Featured Contributor and the Founder/Winemaker at Sonkin Cellars.
Mulan Chan, Rhône and French Regional Buyer, K&L Wine Merchants, San Francisco. Learn more about Mulan Chan.
Edward Ruiz, Wine Director at San Francisco's Incanto Restaurant. 
Location: Incanto Italian Restaurant & Wine Bar, Situated in the heart of one of San Francisco's most charming residential neighborhoods, Incanto's rustic Italian setting, with its handcrafted stone, antique brick and woodwork, 16th century Latin parchments, and private dining room dedicated to poet Dante Alighieri, provides a uniquely warm and inviting dining environment.
Incanto's daily-changing menu honors old-world traditions including house-cured meats, unusual regional pastas, fresh local seafood and a commitment to sustainably grown and harvested produce. Incanto's award-winning wine program features one of the most diverse Italian wine lists in the United States and an ever-changing lineup of more than twenty wines by the glass, half-glass, half-liter, and flight.