Champagne Region of France
by Brad Prescott
The heart of the Champagne region lies 90 miles (145km) northeast of Paris near the Belgian border. It is generally divided into three parts – the Montagne de Reims, the Vallée de la Marne and the Côte des Blancs. The Aube, 70 miles to the southeast, is important for wines they produce that go into many of the nonvintage blends of the major champagne houses.
Of the regions 75,000 acres of vineyards, most and the greatest vineyards of Champagne, are planted in the département of the Marne. The vineyards are not owned by great landowners but by thousands of growers, often working part-time.

All of the vineyards are situated on deep chalk soils. Champagne is situated on the same great basin that also forms the famous white cliffs of Dover in southern England. The chalk, a natural moisture regulator, provides good drainage (chalk can absorb up to 40% of its volume in water) and reflects precious sunlight and its heat. The thin layer of arable topsoil constantly needs a top dressing of fertilizer to do its job.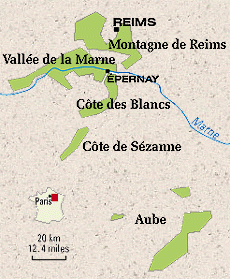 Laws dictate which of the three permitted grapes may be planted where. Trial and error over time has shown the wine growers the grape types best suited for each zone of production.

In a region where the annual temperature is just slightly above the minimum temperature required to ripen grapes — 50°F(10°C) — slight variations of slope and aspect are crucial. Most of the best vineyards are planted on slopes at an altitude high enough to be clear of frost (usually above 300ft or 90m), but low enough (below 690ft or 210m) to be sheltered from extreme weather conditions.
For more than 25 years, The California Wine Club founders Bruce and Pam Boring have explored all corners of California's wine country to find award-winning, handcrafted wine to share with the world. Each month, the club features a different small family winery and hand selects two of their best wines for members.
Lying on a deep bed of crustaceous chalk beneath a thin layer of topsoil, the slopes of the Montagne de Reims and the Côte des Blancs provide the best vineyards. The greatest concentration of villages designated as Grand and Premier Cru are found in these two areas.
The Montagne de Reims is planted mainly with Pinot Noir. Although it contains the northernmost vineyards – some even north-facing – its peculiar microclimate is well suited for the growing of the Pinot Noir grape. The Montagne is a forested plateau south of Reims. Its wines give the great champagnes their backbone – their weight and richness.

Along both banks of the River Marne, is the Vallée de la Marne. With mostly south-facing, lower-lying vineyards, this zone produces the fullest, ripest wines, predominately from the Pinot Meunier and to a lesser extent the Pinot Noir grapes. Some Chardonnay is beginning to make inroads into the area.