Wine & Uruguay: 24 Hours of Wine and Food
A 24 Hour Diary:

Feb 20, 2008, 11:35 am, Porto Alegre Airport, Brazil
I'm shopping at the duty free store in the Porto Alegre airport as I wait for my twice-delayed flight to Montevideo. Luckily I now have enough time to pick out the most useful things one could have during a hot and sweaty South American summer... a pair of Brazilian Havaenna flip-flops...35 spf face cream... and some over-priced designer deodorant ( no sense in layering on perfume over my sun-block and insect-repellent).

Just as I'm about to pay, I get an urgent call from my classmate telling me to rush straight to the gate, everyone is already seated and captain has started his usual welcome speech!!!

I hesitate for a moment since I've already grown so attached to my new found "essentials"... but rationalization kicks in- I won't have much fun with my sun block and flip-flops if I get left behind in the airport...

I drop everything in a panic and run frantically to the gate!!! By the time I board, endure the clapping and mock-cheering of my classmate and find my seat... I'm really wishing I had that designer deodorant!

Oh well, at least I made it… and in 45 minutes I will arrive in Montevideo, Uruguay!!
Feb 21, 2008- Montevideo, Uruguay

First stop:

Bodega Bouza – A very green spacious property combining wine production with all the elements that fit well with the wine world: gastronomy, art, culture, and travel.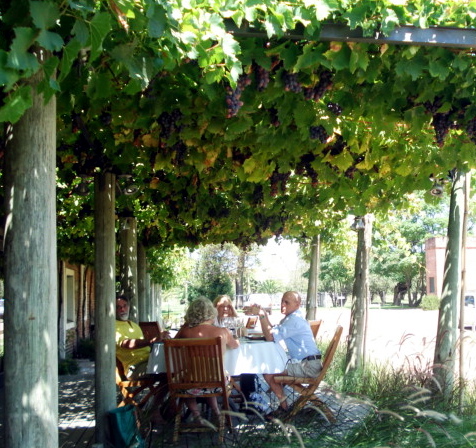 There is a beautiful reception area for dining with classy jazz music softly playing in the background, natural sun light and a cool breeze passing through from the floor to ceiling windows on either side of the room. Adjacent to the winery there is glass-walled building housing a fascinating collection of vintage automobiles dating back to the early 1900s. The best part: they are all still functioning!

This 7-hectare property, purchased in 2003, produces Tempranillo, Merlot, Tannat and Chardonnay grapes. What is very special about this winery is that it's the only one in South America that produces wines from the Albarinho grape variety. They produce 6,600 bottles of 100% Albarinho wine that is promptly sold out in less than one month.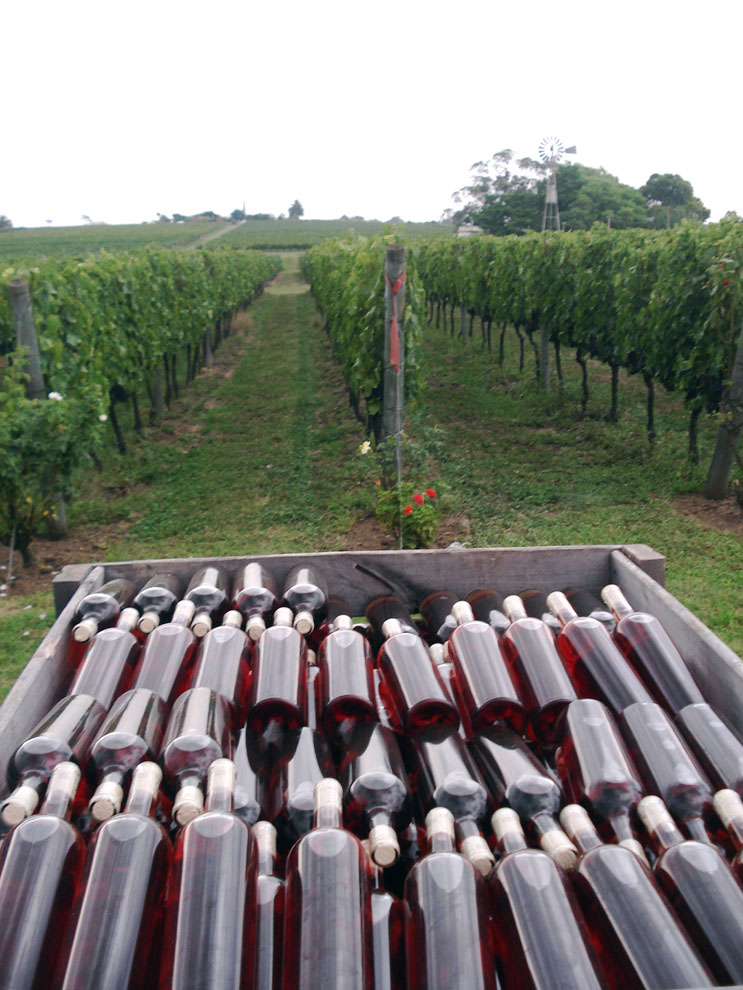 Among many wonderful wines, I tasted a remarkable Chardonnay (80%)/Albarinho (20%) blend from 2007- beautiful floral aroma and very dry, crisp flavors in the mouth...the alcohol is quite high (14 %) but the wine is well balanced and drinks smoothly.

Next visit:
Juan Carrau - Originally from Catalunya in Spain this family immigrated to Montevideo and bought the property from Italian winemakers. They now own both the oldest and the newest wineries in Uruguay. It was the first winery in Uruguay to exclusively produce "vinos finos" (translating to "fine wine" but meaning that they are from European grape varieties) sold in 750ml bottles. While the majority of Uruguay is producing "table wines" for national consumption which are sold in tetrabriques or 3 liter wine jugs.

A fascinating point for me was when the winemaker explained his decision to turn away from French oak barrels for aging (usually giving a more subtle and complex flavor to the wine) and start using more and more American oak (bolder, spicier flavors, usually vanilla).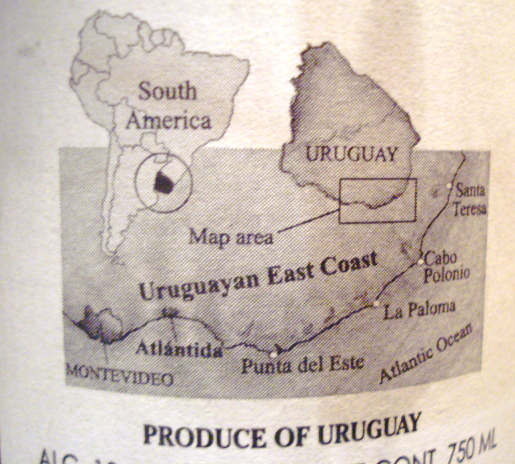 While this is typically an important stylistic decision made by a cellar's wine director, taking into account the desired characteristics and style he intends for his wine, Juan Carrau made the switch due to the rising exchange rate with the euro. This is the first time I've heard of such a decision being made solely for economic reasons... and it was amusing to think that as the winery tightens its purse strings, the wines become bolder.

Juanico - This was a striking and vast vineyard with a gorgeous home at the center, where we were greeted with fresh local fruit juices and yerba mate before setting out to see the vines. The wine makers are working on interesting and innovative projects with their vineyards to get the best results in their area. For example in certain sections of the vineyard they cover the ground with plastic in case the rainfall is higher than usual so there is not too much water in the ground. This forces the roots to continue digging deeper to reach water and also prevents the grapes' taste to become too bland from excess rainwater.