Wine To Go Buy This Week - 2014 Crocker & Starr Cabernet Franc – 91 Points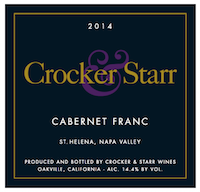 Cabernet Franc in California typically is a different animal than Franc from its home in the Loire Valley in France. New World Francs tend to have hefty tannic structure, are overripe and too often resemble Cabernet Sauvignon, though they shouldn't. Crocker & Starr honors the Franc of France with its own delicate spin but also honors its St. Helena vineyard with the fruit coming from mature 27 year-old vines. "Cabernet Franc romances you, it's a charming grape, my alter ego," winemaker Pam Starr tells IntoWine. 20 months in French oak softens what easily could have been a burly wine. Blueberry, boysenberry, black cherry compote, red raspberry with back notes of ground coffee, sweet minty cedar, and savory herbs like thyme and oregano excite the senses. The tannins are evident but moderate, the acidity mild, making this very drinkable now but also worth holding on to for a time.
Average Price: $80/ 750ML
Alcohol: 14.4%
Pair With: Pan seared bracoile, duck breast with mushroom reduction sauce, ratatouille with fresh vegetables, garlic and olive oil.
Availability: Limited (548 cases)
Website: www.crockerstarr.com
For more than 25 years, The California Wine Club founders Bruce and Pam Boring have explored all corners of California's wine country to find award-winning, handcrafted wine to share with the world. Each month, the club features a different small family winery and hand selects two of their best wines for members.
Tags: