We're sorry, this video is not available rnow. Please check back later.
In this episode of IntoWineTV, host Lisa Kolenda and wine experts Bartholomew Broadbent, Cezar Kusik, and Rob Renteria convene at one of San Francisco's finest restaurants, Incanto, to taste and discuss Italian Whites.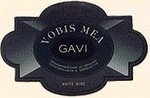 Theme: Italian Whites
Wine: Volpi Gavi "Vobis Mea" 2007 ($18.50)
Region: Piedmont
Alcohol: 12%
Varietals: 100% Cortese, from vineyards located near the villages of Gavi and Rovereto
- Upcoming IntoWineTV Video Themes
- Wine producers and distributors: Find out how to get your wines included in our next session. More info... 
Wine Notes: "Vobis Mea" means "As I like it" in Latin. Aged several weeks in barriques and further maturation in the bottle, the wine has a a brilliant color, pale yellow with greenish reflections, delicate bouquet, rich on the nose, reminiscent of flowers and fresh fruits.
Accompaniment: Seafood, light pasta dishes and delicate soups. Old vine originally from the area around Alba, grown on the lands to the left side of the Tanaro river (Langhe is on the right bank) where it was probably first grown. A very aromatic white wine, best when young with straw yellow color with persistent nose of flowers, white peaches and mint. Dry and intense with good acidity, velety mouthfeel and generous finish.
Experts:
Bartholomew Broadbent, CEO of Broadbent Selections. Bartholomew was named as one of the "fifty most influential people in the wine world" by Decanter Magazine. He is also widely considered to be one of the world's foremost authorities on Port and Madeira. Learn more about Bartholomew Broadbent.
Cezar Kusik, Fine Wine Specialist, Fourcade & Hecht Wine Selections.
Rob Renteria, Wine Director at Napa Valley's Martini House.
Location: Incanto Italian Restaurant & Wine Bar, Situated in the heart of one of San Francisco's most charming residential neighborhoods, Incanto's rustic Italian setting, with its handcrafted stone, antique brick and woodwork, 16th century Latin parchments, and private dining room dedicated to poet Dante Alighieri, provides a uniquely warm and inviting dining environment.
Incanto's daily-changing menu honors old-world traditions including house-cured meats, unusual regional pastas, fresh local seafood and a commitment to sustainably grown and harvested produce. Incanto's award-winning wine program features one of the most diverse Italian wine lists in the United States and an ever-changing lineup of more than twenty wines by the glass, half-glass, half-liter, and flight.