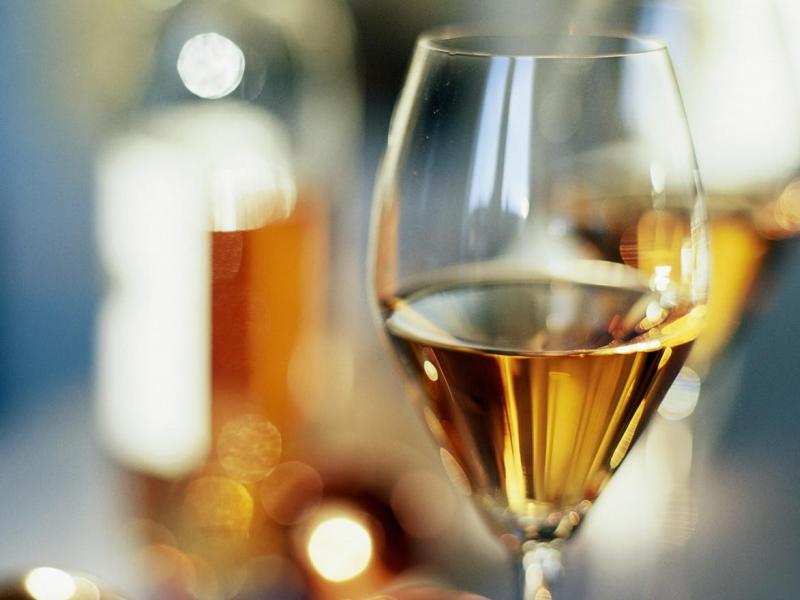 Sherry (the wine from Spain) can be confusing to understand, much less choosing a bottle in a store.  Like most things in life, however, choosing a bottle of Sherry can be understood once one realizes at almost every step, it's about dividing the choices into two categories and moving on.  Of course, like everything in life, there are always exceptions (except death and taxes). 
So it may be helpful to look at it from the point of view of walking into a wine store.  For practical purposes, this won't always work as the selection of Sherries in many wine stores is less than ideal.  That is due in large part to the surprising lack of demand.  For at least the last half century, wine writers have lamented this fact always concluding that sherry is the best value in great wine.  The prices of Sherries, compared to other wines at the same level of quality, are much less.  But for now, we will assume the store is stocked with whatever one could want or afford. 
Find the section of the store marked Spain.  Sherries come from Spain, but it is highly unlikely, although possible, that Sherries will be stored there.  In some stores they will be stored near the Ports and Madeira's.  Sherries often get lumped into a group with these wines.  That is likely because a) they are from the Iberian Peninsula, and b) some of them are dessert wines.  But, we are getting ahead of the process, so find a sales person and go to wherever the Sherry section is. 
Now, we are ready to make some choices.  The first question to my mind is whether one is looking for dry or sweet.  Since the day (or evening is young), let's proceed in the same order as one would for a dinner or for that matter a Sherry tasting.  That is to say, lighter to heavier, dry to sweet. 
Dry Sherries are for the most part, made from the Palomino grape grown in or around the town of Jerez, Spain.  There are two primary methods for making dry Sherry.  Either way, grapes are grown, harvested, crushed and put into a barrel or tank (how is that for skipping some good parts?), and that is where this story begins.  From there the choice is whether they are aged "biologically" or "oxidatively".  What's that you say?  Not all Sherries are oxidized?
It turns out that in southern Spain, where Sherries are from, once in barrel (or tank) some of the juice develops a coating of yeast over it.  This is called Flor.  Over the centuries, people figured out that by leaving some headspace in the barrel, the Flor would form and protect the wine from oxidation.  That is why the term "biologically" is used.  Of course, in other wines, the Flor does not form.  These wines will oxidize from the oxygen in barrel or the exchange of air thru the barrel. 
The lightest of Sherries made without oxidation are called FINO.  Fino's should be light to medium golden in color.  They ae made to be enjoyed soon after being put into bottle.  They can be off putting when first exposed to a consumer as they often have high levels of volatile acidity (think nail polish remover) and are quite dry indeed.  These wines beg for food.  Think salty; olives, nut, or crackers but also briny foods such as oysters turn this wine in one of the more magical food wine pairings.  A good Fino Sherry can be found without much trouble for under $30. 
It should be noted that one might see something labeled as MANZANILLA.  For purposes of this Article, Manzanilla is close to the same thing as Fino only it is from Sherry adjacent.  It is actually from a community about an hour away and at the edge of the sea which makes the wine slightly differently but not that much for our novice purposes.  Remember, most of us are novices when it comes to Sherry. 
OK, so back to the choices of Dry wines.  What happens when the Flor doesn't take (said in your best George Costanza voice)?  There are lots of reasons this may happen.  Some we understand and some we don't.  Remember, these styles have been around a long time.  Back in the day, our knowledge was more limited and the wines used a lot more grape varietals.
It could be that for some reason the Flor just didn't have enough nutrients.  Flor is a yeast.  If it runs out of material to consume, it will die.  If it gets too hot or cold, it will die.  It the wine's alcohol level gets too high (intentionally or not), it will die.  The point is, once it dies, there is no longer the protection and the wine will start to oxidize.  If this is earlier in the process of making a Fino (or Manzanilla), the wine is called PALO CORTADO (which literally means "stick cut" as a slanted line was chalked onto the barrels to indicate that the wine was no longer a Fino). 
Palo Cortado's have elements of both styles of Sherries.  As a general rule, these wines still so show some of the lightness and elegance of the Flor or biological style along with the roundness which comes from being oxidized.  Where in the spectrum these wines will be turns on many factors including house style, the age of the wine and how long it was in barrel.  These wines pair quite well with salted ham or again with oysters.  Sushi is also a surprisingly good pairing. 
The other major exception is AMOTILLADO.  These are wines that have finished the flor process but the Flor now dies.  They are rounder and more oxidized, as a general rule, than Palo Cortado's but still carry a bit of the Flor characteristics.  Often these are intentionally created by fortification.  Traditionally, these are served with soup, fowl dishes or with hard cheeses.
Sherries (not counting the exceptions) are fortified.  That means neutral alcohol sprits (around 16% to 18%) are added to the wine at some point.  In the case of Fino, this will kill the Flor which are then immediately bottled (Manzanilla's are often not fortified but still are able to achieve very high alcohol levels naturally).  But, sometimes, the wine is instead put into barrels and these wines become Amontillado. 
If the wine, on the other hand is made in an oxidative style from the beginning, but still dry, it is called an Oloroso.  These wines tend to be a bit darker and a bit richer and more full bodied.  These have a broad price range and in general, one gets what one pays for.  As opposed to Fino's, these wines can age well as they are already oxidized and older versions are available in the marketplace.  Look for VORS (very old rare Sherry) which indicates more than 30 years average age or VOS (very old Sherry) which indicates more than 20 years average age.  While some of these wines can be very expensive ($200+), there are some that are only expensive (under $100) and are sublime.  Oloroso's are large wines and need heavy foods such as roasts to work with them. 
Although outside the scope of the Primer, this seems like a good time to remember that Sherries are blends.  They use what is called a Solera system which is essentially a pyramid scheme for blending older wine with younger wine to make a house style of wine. 
But, you may say, I thought Sherries were sweet.  The answer is that yes, some are.  Historically, there were a lot more sweet Sherries made but over the years tastes have changed from sweet to dry and back and forth.  Today, the drier styles are more in vogue (Millennials use of them in cocktails is very in right now), but the sweet styles are also very popular. 
The sweeter styles are not made with the Palomino grape (unless they are), instead usually using the Pedro Ximénez (PX) grape or Moscatel.  To make wines from PX, the grapes are harvested and allowed to dry on mats until they are half of their original size.  The grapes are then pressed and stored in mostly filled barrels where they can develop in an oxidative style.  The sugar in the grapes gets concentrated which prevents the yeast from lasting long enough to ferment the wine.  The wine is then fortified leaving a brown, sticky, sweet syrup that is either the nectar of the gods or cloying molasses depending on one's tastes.  PX based wines will last virtually forever.  The most expensive Sherries on the market tend to be aged versions of these wines.  These wines work quite well with chocolate or coffee desserts.
The sweet wines made from Moscatel are rare.  They drink like sweet dessert wines made from this grape in other parts of the world.  That is to say, honey golden to brown in color with notes of honey and apricots and work well with a cheese course at the end of a meal. 
These wines will simply be labeled as PX or Moscatel and often will say they are sweet. 
But, we are not done yet.  Many of us know or are even related to someone who loves to sip their Cream Sherry.  Harvey's Bristol Cream Sherry is in fact, one of the most popular selling Sherries on the market.  What is that?  Well, these are another exception to the rule.  Remember earlier when Palomino grapes were used for dry wines?  Well, it turns out that on occasion a bit of PX (or Moscatel) is added to an Oloroso and this is called an Amoroso.  Cream Sherry is the most popular version of these.  And J. Harvey's back around 1800 in the city of Bristol, England created their version of this wine, and the rest is now history.  These are viscous, sweet wines that are tasty and easy to sip on their own.  They will work well with fresh fruits and also cheeses. 
So, there you have it.  Almost.  It turns out that there is an area, again, not too far away, called Montilla-Moriles (after two of the towns in the area) that grows PX grapes.  The interesting thing is that they grow PX better than the area around Jerez.  So much so, that although the rules for making Sherry require all the grapes used to be grown in or around Jerez, there is a sole exception for PX grown in Montilla-Moriles.  In fact, very little PX is grown anymore near Jerez. 
While much of the PX is used for sweet Sherry, some of it is fermented dry and one can find wines labelled Montilla-Moriles Fino, Palo Cortado, Amontillado, Oloroso, or PX.  The big difference is that these wines are not (usually) fortified. 
So there you have it.  Clear as can be (unless it isn't).  And perhaps, that is one reason that Sherry has been slow to take its place among the world's great wines.  There is so much more to learn and know about the history, geography, marketing and enjoyment of Sherry.  The purpose of this article was to help you buy a bottle or six, and take them home to start the process.  While there are many great books to continue one's education, nothing is better than actually opening a bottle.  Still, the book Sherry, Manzanilla, and Montilla by Peter Liem and Jesus Barquin is an excellent place to start and highly recommended. 
Salud!