Swiss Wines: Confined Success
Switzerland evokes images of mountain climbers, yodelers, fondue and chocolate and cheese. It does not evoke wine. But surprisingly, Switzerland has a thriving wine community, though exports to other countries including the U.S. are miniscule, and amount to less than 2 percent of the total wine production. In fact, Switzerland has approximately 37,000 acres of grapes planted. By contrast, the unknown AVA of West Elks in Colorado has 48,000 acres of vines. The Valais region, Switzerland's largest wine grape area, comprising of the valley which leads towards the Alps, are laden with steep terraced mountainside vineyards in a stunning display of the ability to plant grapes in seemingly impossible locations.

But a mere 15 minutes from Geneva, on the southern side of Lake Geneva sits Domaine des Champs-Lingot, owned and operated by Claude-Alain Chollet. With a mere 12 acres under cultivation, Claude is one of the nearly 40 grape growers in the area who tends his vines, makes wine and sells it all within the confines of Switzerland. Located within a stones throw of the lake and surrounded by corn fields and sunflower patches, it's an idyllic setting to be making wine. To be honest, the winery, located behind his house in a converted barn isn't impressive.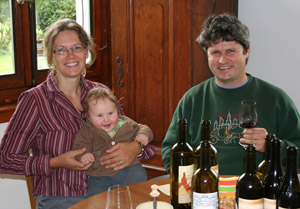 But it doesn't need to be. It simply needs to crush grapes, age the wine in barrels and sell it to restaurants, wine shops and guests who visit Claude and his wife, Tina. Claude's wines are neatly divided between whites, roses, reds and a few sweet wines, and consist of standard varietals like cabernet sauvignon, chardonnay, pinot noir and viognier. However, it's the handful of unknown varietals outside of Switzerland such as Kerner, Carminoir and Gamaret that are the most intriguing. Many of these grapes are cross blends, found no where else. Though finding a Swiss wine in the U.S. many be the equivalent of finding the Holy Grail, if you end up in Switzerland a visit to a local wineries like Domaine des Champs-Lingot is a must. After a brief tour of his facility, which includes multiple stainless steel tanks, a very small bottling machine and a variety of oak barrels (including French, American, Hungarian and Russian oak) Claude and I sit down in his kitchen to taste his wines, the views of Lake Geneva visible through his dining room window. A chicken is cooking in the oven and the tempting smells are punctuated by the giggles of his five-month old son, Rafael.

Claude's great grandfather was a winemaker, but he was in the farmer vein, meaning that he made some wine, but predominantly sold grapes to other producers. Claude started his foray into winemaking in 1990, working first at smaller wineries in Germany and Oregon. By the time he started in Switzerland, Swiss wines were still struggling with their reputation. Geneva wines had a reputation as being fit for "cleaning windows," Claude joked. Most producers were just farmers who were producing a lot of grapes with poor quality. "In the last 25 years there has been a huge revolution. We have become more well known but the prices have gone up slowly." Looking at his price list, his reds and whites sell for less than 20 Swiss Francs, currently the equivalent of about 20 U.S. dollars.
For more than 25 years, The California Wine Club founders Bruce and Pam Boring have explored all corners of California's wine country to find award-winning, handcrafted wine to share with the world. Each month, the club features a different small family winery and hand selects two of their best wines for members.
Tags: