Switzerland evokes images of mountain climbers, yodelers, fondue and chocolate and cheese. It does not evoke wine. But surprisingly, Switzerland has a thriving wine community, though exports to other countries including the U.S. are miniscule, and amount to less than 2 percent of the total wine production. In fact, Switzerland has approximately 37,000 acres of grapes planted. By contrast, the unknown AVA of West Elks in Colorado has 48,000 acres of vines. The Valais region, Switzerland's largest wine grape area, comprising of the valley which leads towards the Alps, are laden with steep terraced mountainside vineyards in a stunning display of the ability to plant grapes in seemingly impossible locations.
But a mere 15 minutes from Geneva, on the southern side of Lake Geneva sits Domaine des Champs-Lingot, owned and operated by Claude-Alain Chollet. With a mere 12 acres under cultivation, Claude is one of the nearly 40 grape growers in the area who tends his vines, makes wine and sells it all within the confines of Switzerland. Located within a stones throw of the lake and surrounded by corn fields and sunflower patches, it's an idyllic setting to be making wine. To be honest, the winery, located behind his house in a converted barn isn't impressive.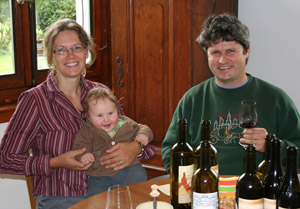 But it doesn't need to be. It simply needs to crush grapes, age the wine in barrels and sell it to restaurants, wine shops and guests who visit Claude and his wife, Tina. Claude's wines are neatly divided between whites, roses, reds and a few sweet wines, and consist of standard varietals like cabernet sauvignon, chardonnay, pinot noir and viognier. However, it's the handful of unknown varietals outside of Switzerland such as Kerner, Carminoir and Gamaret that are the most intriguing. Many of these grapes are cross blends, found no where else. Though finding a Swiss wine in the U.S. many be the equivalent of finding the Holy Grail, if you end up in Switzerland a visit to a local wineries like Domaine des Champs-Lingot is a must. After a brief tour of his facility, which includes multiple stainless steel tanks, a very small bottling machine and a variety of oak barrels (including French, American, Hungarian and Russian oak) Claude and I sit down in his kitchen to taste his wines, the views of Lake Geneva visible through his dining room window. A chicken is cooking in the oven and the tempting smells are punctuated by the giggles of his five-month old son, Rafael.
Claude's great grandfather was a winemaker, but he was in the farmer vein, meaning that he made some wine, but predominantly sold grapes to other producers. Claude started his foray into winemaking in 1990, working first at smaller wineries in Germany and Oregon. By the time he started in Switzerland, Swiss wines were still struggling with their reputation. Geneva wines had a reputation as being fit for "cleaning windows," Claude joked. Most producers were just farmers who were producing a lot of grapes with poor quality. "In the last 25 years there has been a huge revolution. We have become more well known but the prices have gone up slowly." Looking at his price list, his reds and whites sell for less than 20 Swiss Francs, currently the equivalent of about 20 U.S. dollars.
Claude suggests that, though the quality has dramatically improved, bottle prices do not reflect that. Part of that issue is that Switzerland is not part of the European Union, therefore their currency is devalued against the euro. Additionally, with Switzerland bordered by larger wine producing countries like France and Italy, export markets are slim. Add to that the influx of inexpensive wine from all over the world and Swiss citizens, as well as many tourists simply will not pay more for a Swiss wine when cheap wines abound. And the world is not clamoring for Swiss wines. They don't show up on top wine lists and most producers within the country make such small amounts that at most they can only export a few cases, making it financially unrealistic. And for tourists there's the inability to bring home wine from Switzerland unless it's shipped, which becomes costly.
So Claude, like many of his countrymen, is in a quandary. They should charge more for their wines, but market forces conspire to keep them low. That's why a visit to Switzerland and the wine regions present a unique opportunity. Therefore the joy of spending time with Claude becomes that much more important. Many of the wines I tasted are only grown in Switzerland such as Kerner, a blend of Riesling crossed with Trollinger (a German red grape) first produced in 1929. The result is a mild residual sugar from the Riesling blended with a comprehensive acidity from the Trollinger.
Other oddities that Claude is making into very fine wines are his gold medal winning Gamaret yet another hybrid, this one between the gamay grape and another German grape, Reichensteiner, first crossed in 1970. "Geneva is very proud of its Gamaret," Claude says. "I macerate it for up to 2-3 weeks," he admits, which creates a stronger wine, unlike most Gamarets which are milder. By doing this, Claude generates more of a white pepper-like syrah nose with a back note of cinnamon and tighter tannins.
Then there's Carminoir, a blending of cabernet and pinot noir. "Carminoir is pretty rare," Claude says. "I'm only one of three producers in Geneva who makes it. I did this wine for me. Then it won a silver medal and that could help to sell a wine nobody knows." It's a tightly tannic wine, tailor made for "good meat" as Claude says. But the pinot helps soften the tough edges associated with a one hundred percent cabernet. Then there is his best wine, Lingot Noir, a bend of merlot and Carminoir he created with soft tannins, a deep cranberry nose, but which opens on the palette to cranberry and earthy mushroom.
With only two to three thousand cases being produced, Claude is a "boutique" producer, at least by U.S. standards. But regardless of any perceived ideas, Claude-Alain Challot is producing some very good wines in the relatively small country of Switzerland. Should you find yourself near Geneva, it would be wise to visit Domaine Champs-Lingot and to see for yourself.