James Conaway picks up the story begun a decade ago in his earlier book about Napa Valley, the premier American wine country and a place synonymous with the good life. By now the struggle over the valley's future has grown sharper and its success more glaring. Awash in dollars generated by the boom economy of the 1990s and the social ambitions it inspired, Napa is beset by too much of a good thing: new arrivals determined to have a vineyard of their own despite the fact that available land is running out, cult-wine producers in thrall to fabulously expensive "rocket juice" (cabernet sauvignon) that few locals can afford, established families wishing to hold on to the old ways, and camp followers caught up in the glamour of it all.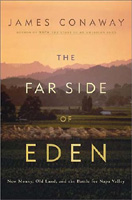 What has transformed a natural and agricultural beauty spot into a coveted global destination has left inevitable scars, and a small, impassioned band of environmentalists determine to resist further change. Alarmed by the wholesale felling of trees to make way for vines, the diminishment of the Napa River, and the decline in the health of the watershed, they strike back in a way rivets the valley and strongly divides the valley between those in favor of unbridled economic development and those insisting on limits. Written by the author the New York Times credits with "a Saroyan-like sense of humor and and Balzac-like eye for detail," The Far Side of Eden takes us to the frontlines of America's ongoing conflicts about money, land, and power to tell a tale that has ramifications for us all.
About the Author
James Conaway, the author of nine previous books, is a contributing editor for Preservation and a regular contributor to Smithsonian, National Geographic Traveler, and Food & Wine magazines, among many others.