Matt Kramer's New California Wine: Making Sense of Napa Valley, Sonoma, Central Coast, and Beyond
by Brad Prescott
California has become the hottest wine producing area in the world, and it happened in less than 25 years. Now the acclaimed Wine Spectator columnist and critic Matt Kramer traces the dramatic progress of the California winemaking industry--the who, how, why, what, and where. No one is better equipped to provide insight into the ways in which West Coast vintners are working to create extraordinary wines, and to explain the myriad developments in character, quality, and technology that have taken place. Kramer's book provides the first comprehensive look at how new approaches to wine making have contributed to California's current high status in the world order of wine.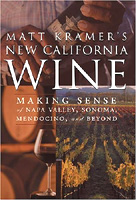 About the Author
Matt Kramer has been a full-time food critic and wine writer since 1976. He has been a regular contributor to Wine Spectator since 1985, and is the wine critic and food columnist for the Portland Oregonian.
For more than 25 years, The California Wine Club founders Bruce and Pam Boring have explored all corners of California's wine country to find award-winning, handcrafted wine to share with the world. Each month, the club features a different small family winery and hand selects two of their best wines for members.
Tags: