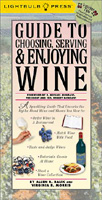 Allen R. Balik and Virginia B. Morris
Description
From The Publisher:
This sparkling guide uncorks the myths about choosing, serving, and enjoying wine. Serving up a rich mix of wine basics and colorful facts, the Guide shows you how to order wine in a restaurant, match wine with food, taste and judge wines, entertain guests at home, and even start your own wine collection.
You'll also get the inside track, with a host of tips from famous winemakers and restaurateurs. And you'll impress everyone with your new-found flair with wine words, with help from the wine glossary and pronunciation chart.

About the Authors
Allen R. Balik, president of Grab Bag, is a noted wine collector and a recognized authority on California and European wine. As a member of numerous wine tasting groups, Allen tastes between 1,000 and 1,500 wines each year, for pleasure and education. He also serves as a consultant for restaurant and retail store buyers and evaluates wine for many panels and publications. Virginia B. Morris is the author of several well-known financial guides and is the editorial director of Lightbulb Press.