The nation's most popular wine primer is now even better. Wine experts Mary Ewing-Mulligan and Ed McCarthy have revised this friendly, unintimidating guide to cover all the latest developments in the wine world: which wine regions are now hot (and which are not), information on new rules for shipping wine and the new vogue for screw-caps, and, of course, updates on vintages, producers, and wine resources on the Web.
As always, the authors deliver just what ordinary mortals need to navigate the wine list at a restaurant or the wine aisle at a store, select a great bottle, and truly enjoy it. They provide an easy-to-understand overview of wine grapes and wine production, a detailed survey of wine regions and producers around the world, tips on tasting wine and pairing wine with food, pointers on wine storage units, and unbeatable guidance on how to choose a decent bottle at an affordable price.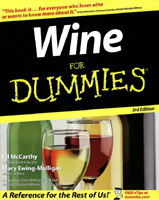 This fun and friendly reference takes you on a tour through the wine regions of the world and explores the different grape varieties found in California, France, Germany, Australia, South Africa, Italy, and many other regions! Filled with plenty of expert tips and wine tasting techniques, Wine for Dummies teaches you how to enjoy wine to the fullest without becoming a snob!
Discover how to:
- Open, serve, and store wine properly
- Read and understand a wine label
- Distinguish good wine from bad with ease
- Taste the "elements of wine," like body, flavor, and balance
- Select wine for any meal or special occasion with confidence
- Navigate your way through a wine shop like a pro
- Enjoy fine wine without spending a lot of money
About the Author
Ed McCarthy (New York, NY) writes for the Wine Enthusiast. His wife, Mary Ewing-Mulligan (New York, NY), one of only fourteen certified Masters of Wine in America, is a wine columnist for the New York Daily News. Both also teach classes at New York's International Wine Center, where Mary is a co-owner and director. They are also the authors of For Dummies guides to red wine, white wine, champagne, French wine, and Italian wine.