Napa: An Architectural Walking Tour by Anthony Raymond Kilgallin
by Brad Prescott
Through 128 pages of over 200 vintage images, the reader is pulled back in time to 1880 Napa, where a scant but diverse 4,000 residents reside. The images in this book, with some photographs never before collected, demonstrate the architectural and historical diversity of this beautiful region, presented in a walking-tour format.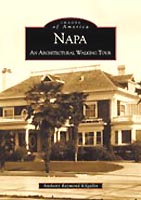 About the Author
Anthony Raymond Kilgallin is a member of the Napa County Historical Society and a guest lecturer on local topics of interest. Most of the images used in the book come from Napa's Goodman Library.
VINEBOX is a monthly wine-by-the-glass membership club. Members receive a curated box containing three glasses of wine from all around the world. Each shipment also contains tasting notes, pairing suggestions and some fun facts about where the wine came from. Explore new regions, learn about taste preferences, and get ready to find a few favorite wines with VINEBOX.
Tags: