Napa: An Architectural Walking Tour by Anthony Raymond Kilgallin
by Brad Prescott
Through 128 pages of over 200 vintage images, the reader is pulled back in time to 1880 Napa, where a scant but diverse 4,000 residents reside. The images in this book, with some photographs never before collected, demonstrate the architectural and historical diversity of this beautiful region, presented in a walking-tour format.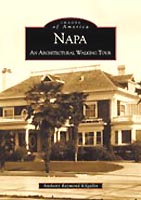 About the Author
Anthony Raymond Kilgallin is a member of the Napa County Historical Society and a guest lecturer on local topics of interest. Most of the images used in the book come from Napa's Goodman Library.
For more than 25 years, The California Wine Club founders Bruce and Pam Boring have explored all corners of California's wine country to find award-winning, handcrafted wine to share with the world. Each month, the club features a different small family winery and hand selects two of their best wines for members.
Tags: